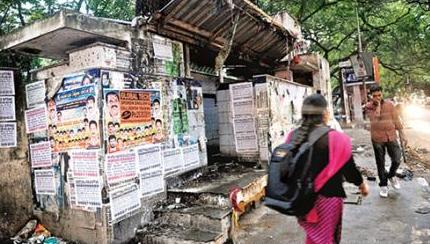 World Toilet Day is celebrated on November 19 to spread awareness about the need for adequate toilets and sanitary facilities for good health. Sadly, Bangalore has a serious lack of toilet facilities, especially in busy areas like Brigade Road and Commercial Street.
These areas are frequently visited roads but except for a few restaurants, no retail or eatery facilities have toilets. Not having easy access to public toilets leads to subsequent problems that are causing innumerable health disorders.
"Public toilets have not been built on Brigade Road because there is no adequate space to build. The nearest public toilet is in Mayo Hall," says BS Prasad, chief engineer of BBMP. Lack of toilets are not only restricting the mobility of women but are also affecting their ability to work.
The situation in households is equally bad. 2011 census data shows that 1.23 lakh of the 23.77 lakh households in Bangalore do not have toilets. The Bangalore Urban zilla panchayat conducted a survey which points out that 34,656 households in the district live without toilets.
Krishnan Ramaswamy, the state consultant for UNICEF who also coordinates NGOs involved in sanitation activities, said, "The state has about 19 lakh missing toilets. They disappeared for three reasons: producing false reports, accepting money but not constructing toilets and increasing government incentives to families to construct toilets.
The Consortium for Dewats Dissemination Society is celebrating World Toilet Day at Freedom Park from 9:30 am onwards.
Reproduced from DNA