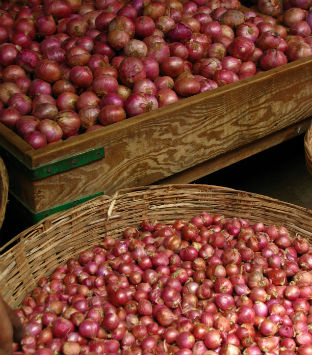 While the Union government has been blaming the steep price rise of onions on crop loss and delayed arrival of onions in the market, the ground reality in the state is very different.
The two main onion markets of the state - Bangalore and Hubli - have no shortage in supply of onions despite claims to the contrary. In fact, compared to the previous year, the Bangalore market this year has received around one lakh tonnes more between September 15 and October 15. While the Bangalore market had received only 75,952 tonnes of onion in the corresponding period last year, this year it has received 1.74 lakh tonnes.
APMC (Agricultural Produce Market Committee) officials and traders tell you there is no supply problem despite the high rainfall in many onion growing regions of the state. With the price of onion being high from September, farmers have been hurrying to sell their stock to take advantage of it, according to them.
Traders see transportation cost as the main cause of the problem. One onion merchant, Raghuram Pai , says the transportation cost has virtually doubled due to hike in diesel and toll rates. "While the average quality onion is sold for Rs 50 to Rs 55 in Bengaluru 's local markets, it is sold for Rs 80 in New Delhi due to the transport cost involved," he says.
According to an APMC officer in Hubli, the other reason is hoarding. Explaining that farmers supply both durable and non-durable varieties of onions, he says some traders hoard the durable variety for release at the "right time" which in their calendar means when they can make the most money from it. Generally onion is routed through the APMC. So if the government monitors who is buying it in bulk then hoarding can be prevented easily," he maintains.
Reproduced from Deccan Chronicle