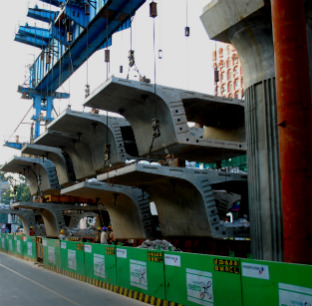 Residents of Whitefield have come together under the banner of Whitefield Area Commerce and Industries Association and demanded that Bangalore Metro Rail Corporation Limited (BMRCL) take the underground route for the Metro's Phase II in the area.
"We want an underground Metro service in Whitefield instead of an Elevated Metro (EM) track. BMRCL should keep in mind that an EM will prove counter-productive in the tech corridor as it will cause more traffic jams," association president B G Kodandaram said at a press conference on Thursday.
The association's demand is a pointer to the growing consciousness among residents of the area over the implications of land acquisition for large infrastructure projects.
"We do not want to be caught off-guard like the residents near Jayadeva Hospital. That is why we are suggesting an underground route to Whitefield," said a resident. The association has brought out a video highlighting the problems and issues that would arise if EM is adopted in the area.
"Not only does EM spoil the area's skyline, it will also affect trade and commerce in Whitefield," said Kodandaram. "Though BMRCL has been advocating EM on grounds that it is economically viable, the fact is that an underground Metro is best suited for Whitefield as traffic density is high in the area," he added.
Source: Bangalore Mirror