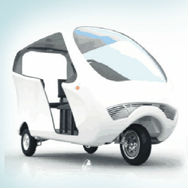 Bangalore-based entrepreneur Maheshwari Sharma has come up with a proposal to replace autos with electric vehicles that will be noiseless, and not emit any carbon. The authorities have even given their nod of approval to start the project. The proposal envisages the import of 500 golf-cart like electric vehicles.
The government, however, wants to see the results of a pilot project before committing fully to the proposal. For now, about 60 EVs will be initially deployed in the central business district, besides covering Majestic, Koramangala and Indiranagar. Based on the success of the pilot project, the government will decide on converting the city's autorickshaws into much quieter and cleaner EVs.
These vehicles will also be three-wheelers, with a speed that will not exceed 40kmph. "That should be enough for city rides," Sharma said.
Source: Bangalore Mirror