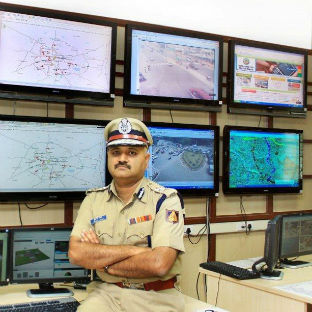 Karnataka state police have implemented a novel system where any updates and status reports on FIRs and requests under Saakala will be sent directly to the users' mobile phone over SMS. This 'SMS Gateway' was launched in November 2012.
The process is rather straightforward. As soon as an FIR is filed, the user's mobile number is entered into a database with the FIR. Automatic SMS alerts will be sent to the user's phone in the event a charge sheet is filed or a case is closed. This is a pre-emptive move to prevent the local police from withholding any information from the complainant.
According to Praveen Sood, Additional General Manager of Police, Police Computer Wing, the SMS Gateway has played a major role in boosting transparency, effectively becoming one of the most successful citizen-centric systems. Around 5000 SMSes are sent across the State thanks to Gateway. Twenty-one services provided by the police department have been brought under Saakala.
To increase the connect with citizens, Bangalore City police launched their own Facebook page, which has 15,653 plus followers. The Bangalore City Traffic page has attracted more popularity, with 70,168 followers. The traffic police have started a campaign called 'Public Eye', where any citizen can click a picture of a traffic violation and upload it on the page.
The State police was the first in the country to connect all its 916 police stations, 400 circles and other offices through intranet, co-ordinated from the City through a Data Centre in Madiwala.
Source: Deccan Herald