Explocity spent an entire morning with the highly experienced Inspector Shivaprasad of the Bangalore Police. We did an exclusive ride along in the police jeep along to get a ringside view of how the cops handle the lockdown measures. 
This follows our interview with Deputy Commissioner of Police, Dr Sharanappa (read interview here: https://explo.in/2y7UpCv,
Shivaprasad was on his way to instruct his traffic cops, beat cops and constables after a meeting with DCP, where he received his instructions for the day. We rode along with him to Trinity Circle, one of the busiest junctions in Central Bangalore. 
Today (07 April, 2020), one side of all major roads in Bangalore were blocked off so traffic could move only in restricted areas. Shivaprasad explains that this was done to reduce the strain on manpower to man the traffic. He and his team had enough on their plates to oversee that the traffic on the streets was only essential business and they also monitor home quarantining. 
At Trinity Circle there was quite a bit of movement, but Shivaprasad and team ensured that the people not following the lockdown had reason to be out on the streets. Delivery persons like Swiggy, Dunzo and others performing an essential service were allowed to pass. Few citizens also displayed day passes that they obtained for emergency work like hospital visits or medical treatment unrelated to coronavirus. 
Two guys were nabbed. They did not have a pass. Their bike was seized per police protocol for the curfew. The duo on the bike argued that they were riding around looking for a meal. The cops have heard it all. "No problem," a police officer told them, "we will have good food for you in the police station."
Inspector Shivaprasad's briefing to his team is simple - protect yourself first, keep your mask on and maintain social distance, and enable the citizens who are on the streets for a reason. He implored his team to understand the views of the citizens as well and not take any harsh action where unnecessary. According to him 95% of the population understand the reason for the lockdown and are obliging with the police (who are only risking their lives for the safety of the people), only 5% misuse the rules of the lockdown. 
The police have their work cut out for them and are required to comply with the terms of the lockdown. Shivaprasad's primary concern is his manpower, "we do not make the rules, our only job is to follow them. The lockdown may be for 21 days, a month or three months, my only job is to make sure my team sustains, does not burn out, and stays healthy in these times," he told Explocity. 
ABOUT INSPECTOR SHIVAPRASAD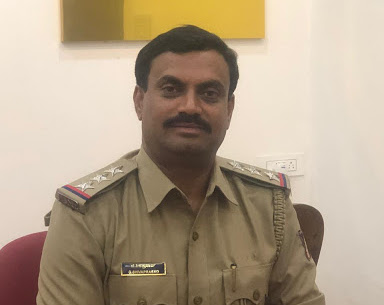 In 2003, Shivaprasad, started as a Police Sub-Inspector and worked in Bangalore City for six months. He was then posted in Madhugiri, Chikballapur. He was promoted to Inspector in 2010, post which he worked in Kolar District. Here he worked as a Circle Inspector in Srinivaspura for four years. Then he moved to Bangalore City and worked for a year in Jeevanbhimanagar, one year in KP Agrahara, as an SHO (Station House Officer). He's been serving with the team at Ulsoor Police Station for one month now.