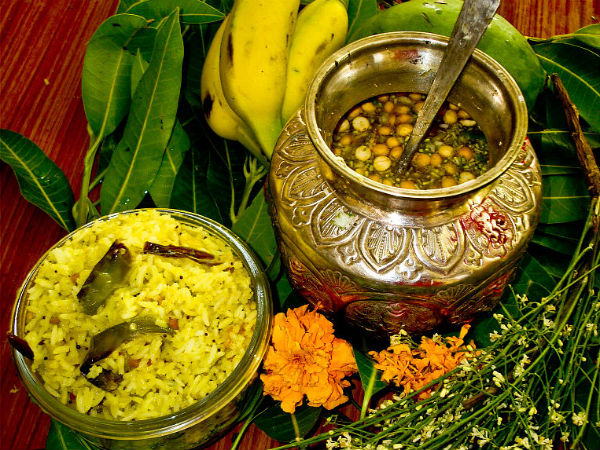 If you don't already know how, then this is your guide on how to celebrate Ugadi. The New Year of Kannadiga and Telugu people falls on a different day every year since they follow the lunisolar calendar. This year the festival is on 22 March, 2023.
To bring in the New Year, houses are cleaned and new clothes are bought. People wake up early in the morning and start the day with a head bath and wear their new clothes. The outside of the house is cleaned and a fresh rangoli is put out as decoration.
Another morning tradition is to hang out the torana. Fresh mango leaves are strung together and hung at the door for the full year. Why mango leaves? Mango is the fruit of the gods and hanging of the mango leaves, the good crop, signifies well-being.
Bevu Bella, a mixture of jaggery and neem leaves is eaten. This symbolises the flavours of life. It is a little bit sweet and bitter at times, this life.
Then comes lunch time. The meal is made with harvest ingredients of the season. Salads to beat the heat, mangoes for the season are used to make a traditional Ugadi meal. Dishes on the festival are listed here.
Mavinkai Chitranna
Kosambari
Variety of Palyas
Hoorna Saaru
Payasa
Hollige
The festival is celebrated in other parts as well. Basically the people between the Vindhyas and the Kaveri river celebrate the festival in some form. Kannadigas, Telugus, Maharashtrians and Goans celebrate this in India. Some other states also celebrate their New Year on the same day. Hindus in other parts of the world like in Indonesia follow the same calendar and have New Year celebration on Ugadi.