The court of the Mughal Emperor, Akbar boasted its navaratnas—the nine gems. India's first interactive music museum has three that stand out in a collection that is already an absorbing collection of prized instruments.
But first, about what is commonly known as the "music museum Bangalore". We could describe it thus:
"A one-of-a-kind destination that showcases the rich heritage of Indian music. With exhibits that range from ancient instruments to modern technology, the museum offers a comprehensive look at the evolution of Indian music over the centuries and blends generations of music into a single experience. Their treasures range from instruments used by famous, nationally-awarded musicians—four Bharat Ratna awardees—to folk instruments sourced from places in India you might not have heard of."
We could talk about its somewhat experiential, interactive side:
"Visitors can explore interactive displays that allow them to create their own music, or learn about famous musicians and composers from India's past."
And what they do:
"The museum hosts regular performances and events that celebrate the diversity of Indian music."
This would be the brochure version. All true though.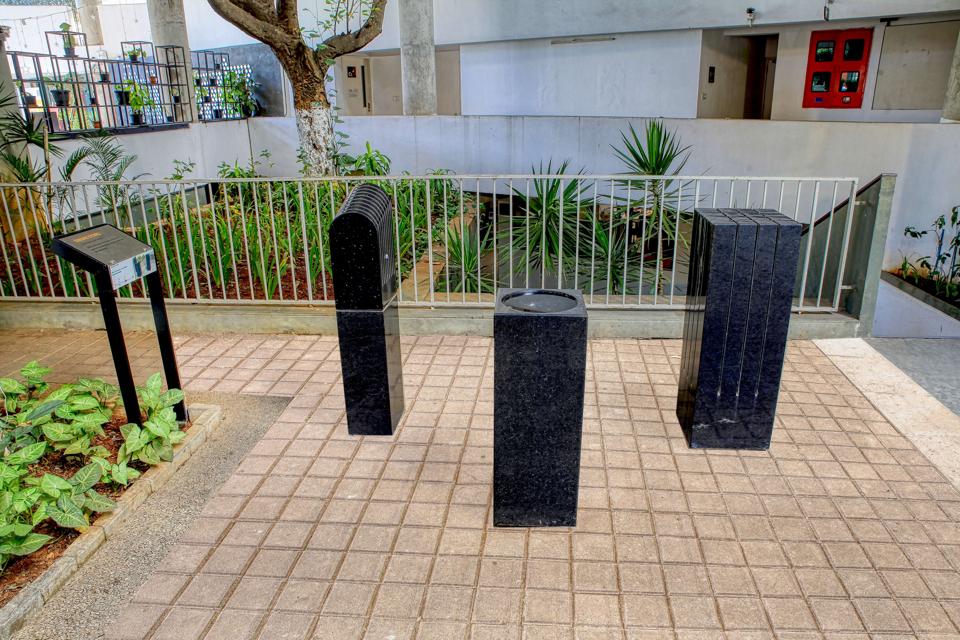 But as with every good and well-curated museum, its appeal is like a painting that "talks to you". Something about it pulls you into its ambience in a sentient way—draws you into its inclusivity… and it becomes more than a display of rare instruments.
And you sense all this even when you enter from the street. The building is modern architecture, surrounded by trees. And right away, the first thing you hear are sounds—harmonies at differing pitches being generated by the Sound Garden.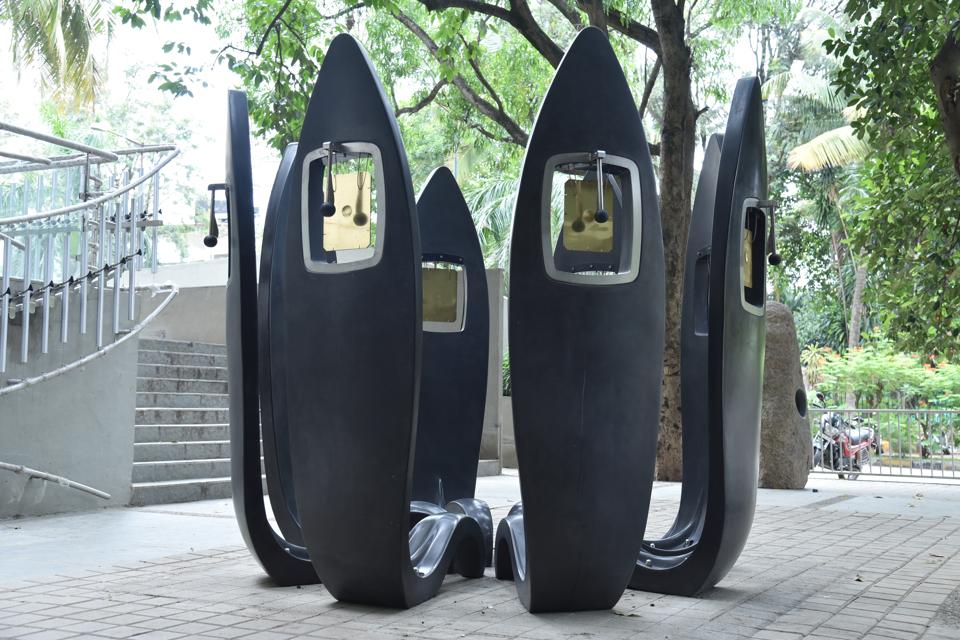 Sahana Mohan is the head curator of the Museum and she spoke to Explocity about the three exhibit galleries of the Music Experience Museum—the jewels of their collection.
First, the Sound Garden. It's right at the entrance of the museum, even before you purchase that entry ticket. It's a musical installation—which means it's a construct on which you can feel sound on your person. In some other parts of the world, this is known as a "sound sculpture"—which is a work of art that combines visual and auditory elements. It may feature objects that make sound when interacted with, or it may use technology to create an immersive sonic experience. The sculpture invites the viewer to engage with the space in a new and unique way, blurring the boundaries between art and sound.
That's what the Sound Garden is all about.  (Loosely what "sentient' means as well.) The installation includes "instruments" made from natural elements like wood, metal, and stone and it is something to be experienced, bodily.
"They say this universe was created by sound," Sahana Mohan said, "go ahead stick your head into the Humming Stone."
Head in the Humming Stone, you experience a full body resonance—the vibrations coursing through your body. You begin to understand what music does to you.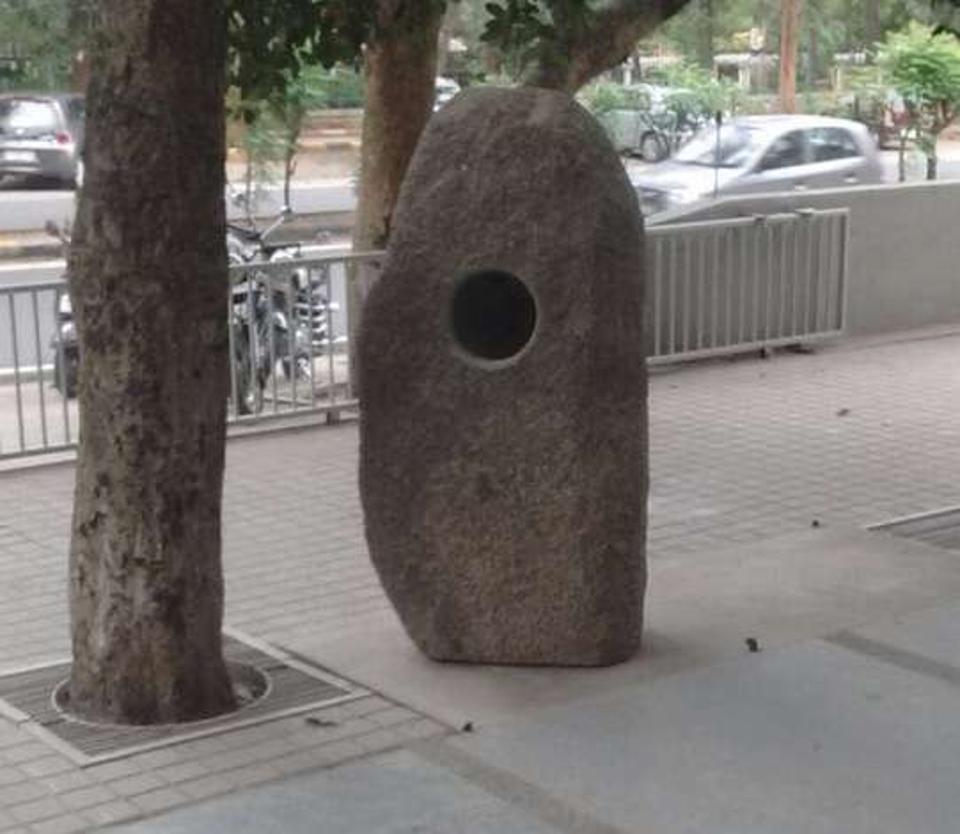 Likewise the Singing Stone. It is an instrument with grooves that you stroke gently with wet hands through which you will "feel the music". 
You take a deep breath and move on to the Flower Gong— which Mohan described as a "teacher of melody". Quite literally a "flower", this instrument has "petals" tuned at differing frequencies that produce harmonies when tapped with a mallet, like an ersatz xylophone.
Mohan added fascinatingly that in the Sound Garden, a hundred people could play those nine instruments on display at the same time and it would still sound musical and not cacophony.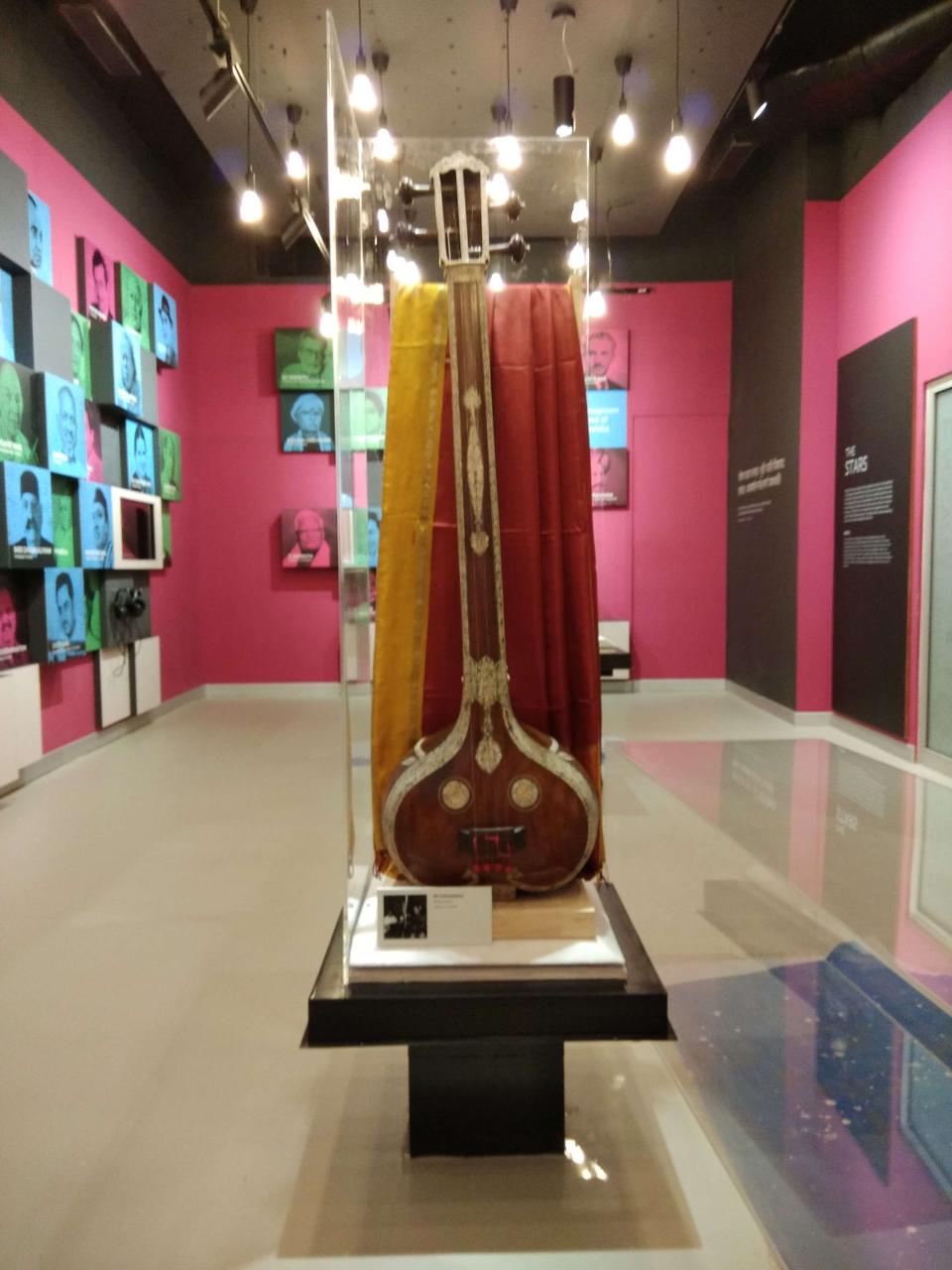 All this and the experience has only begun. There's the rest of the museum and the next jewel in our appraisal would be the "Stars"—a collection of instruments used by celebrated musicians. The significance of this display would best be understood by Sahana Mohan's response to our question, "If a thief breaks into the museum, what will you save first?" 
"I can't even begin to imagine that," she replied, "but if it did happen, I would secure the instruments of famous personalities. There is only one of them. You cannot find a replacement."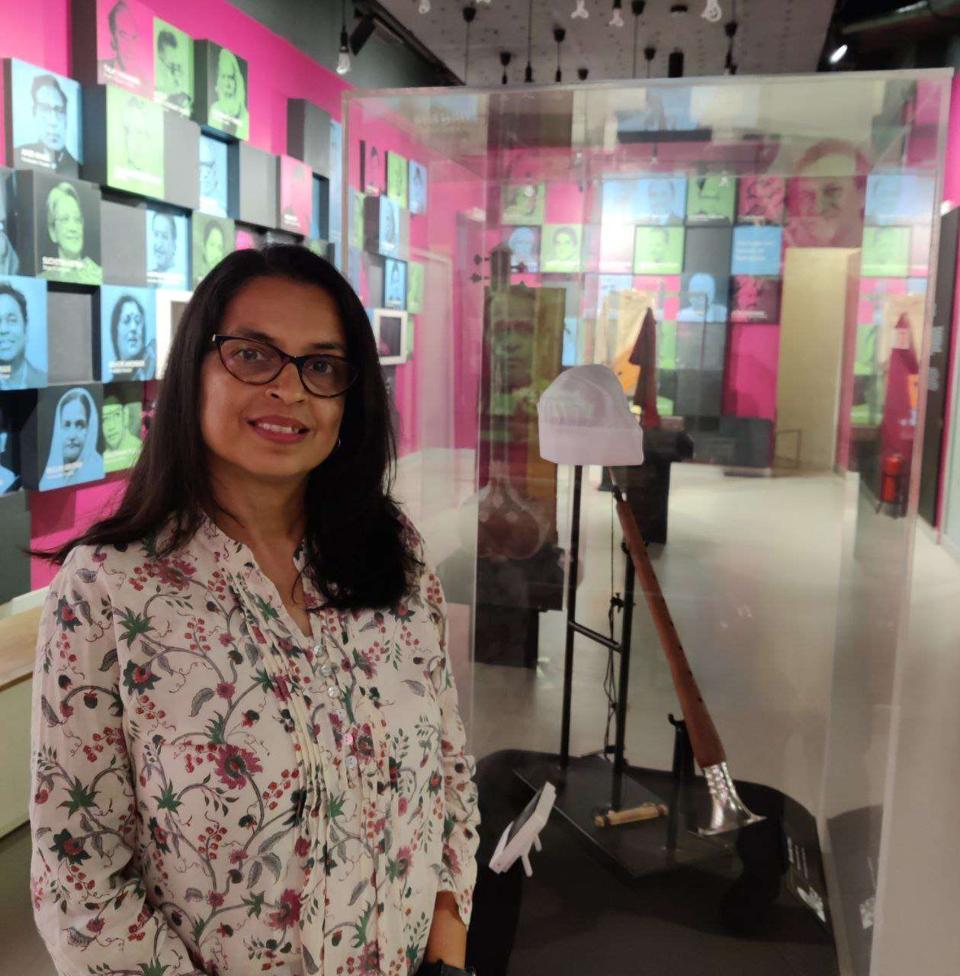 That collection includes the instruments of four of the six musicians who have been awarded India's highest civilian honour—the Bharat Ratna. These Instruments were donated to the museum by their families. 
Enclosed in a glass case is Bismillah Khan's shehnai (along with his iconic "topi".) The maestro lovingly called his shehnai, his begum. You can see the tanpura that the nightingale, MS Subbulakshmi, took on tours with her. Zakir Hussain—who played at the gala opening of the museum—donated his tabla. And of course, Ravi Shankar's sitar, surbahar (a bass sitar), and his tanpura. It might be worthy to note that Bangalore-based jazz diva, Radha Thomas, once accompanied Ravi Shankar, probably on this very tanpura, live on stage at a performance at the Lincoln Center in New York City. Radha Thomas remembers that the maestro had cocked an ear towards her on stage, half turned, snatched the tanpura from her hands and spent an unreasonable amount of time tuning it until it resonated at exactly the pitch he wanted to hear as he performed.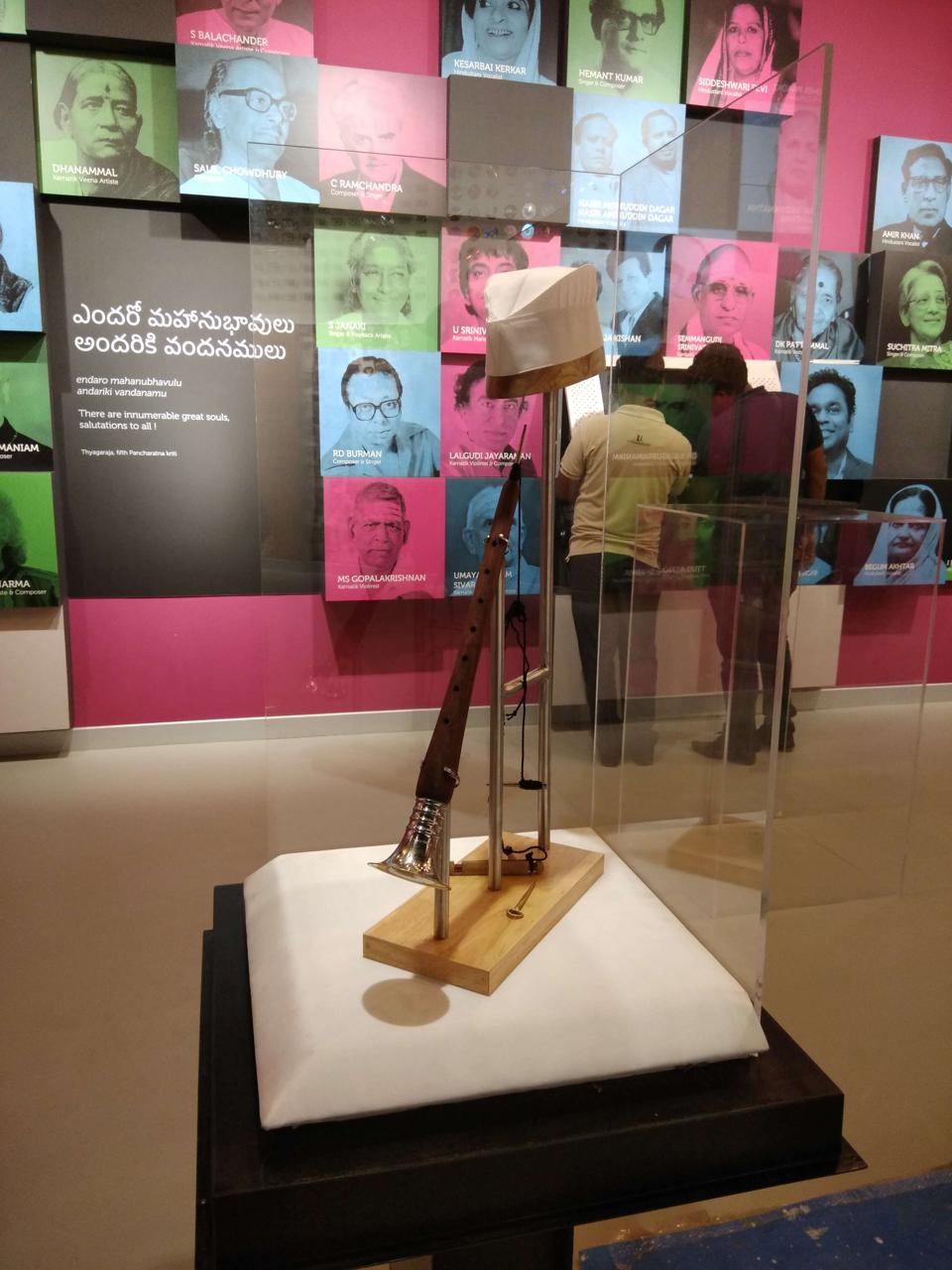 And the third of our recommendations would be what's called "The Songs Of The People"—a collection of folk music from 28 Indian states. This was the labour of Mani's love. Mani was an instrument maker, whom the Museum had appointed to the task and who—according to Sahan Mohan—travelled "in the rain, in the sun, wind, and went deep into the corners of India to source instruments that people may have never heard about. 
In Assam, Mani found a peculiar instrument called Gogona, a type of "jaw harp". It is made from a piece of bamboo and is a part of traditional Bihu music. Interestingly, the dancers wear it in their hair initially as an ornament before playing it. And from Manipur, a rare single-string instrument, Pena—is used in the Manipuri festival, Lai Haraoba. And another exhibit was a large copper pot used as a drum in Kerala.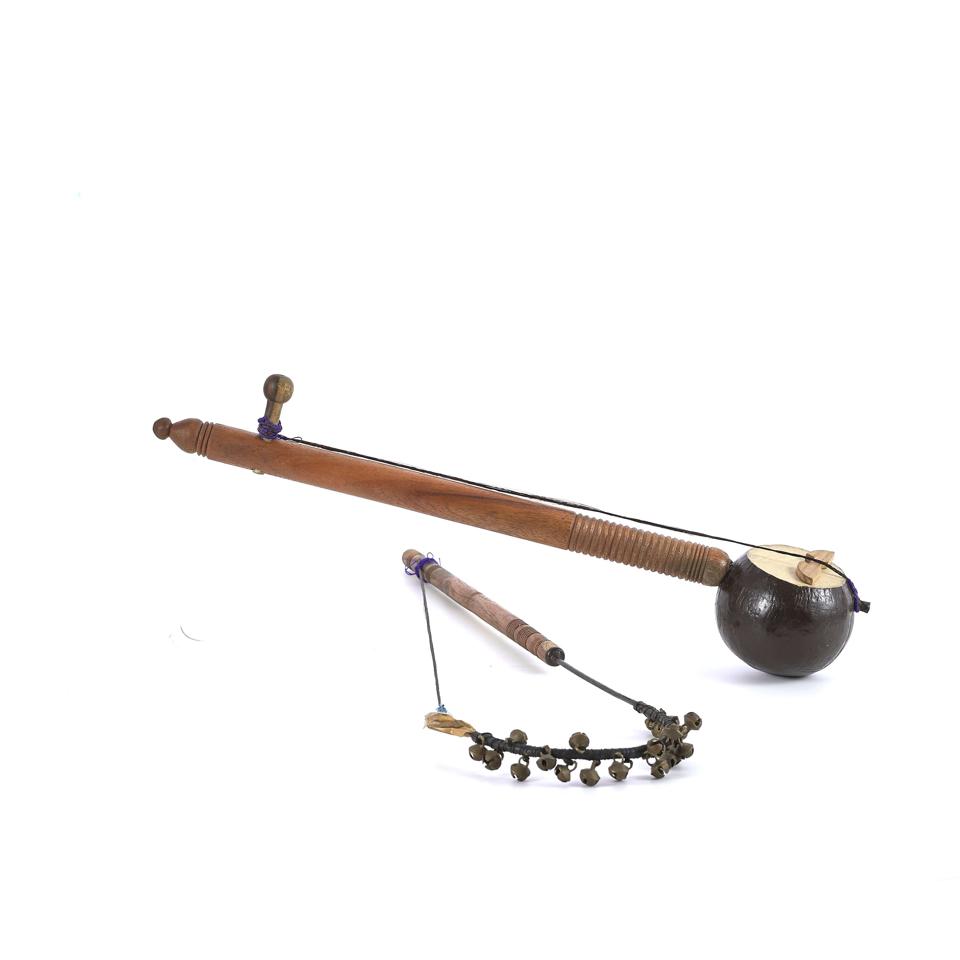 Although much like Indian classical music, the folk music of India is taught aurally, folklore and music do not have the rigorous structure of classical music education nor a structure of teachers schooled in instruction. 
"There is no structure, no teacher; it passes on from the parent to the child," Mohan said. 
Each instrument on display went through careful inspection. Mohan said that Mani, sadly, has passed away but a few days before he died, he had expressed the wish that the highlight of his life was to see his life's vision and work become a reality in the Museum. The Indian Music Experience Museum has completed ten years and is a marvellous reality. 
You can find the museum in Explocity's Guide to Bangalore here: https://bangalore.explocity.com/bangalore-guide/listing/indian-music-experience-museum
Reportage: Shejal Tewari, Communications Graduate, Mount Carmel College. 
Are you looking family-friendly things to do in Banglore? Here's a list: https://bangalore.explocity.com/bangalore-guide/sights-attractions/family