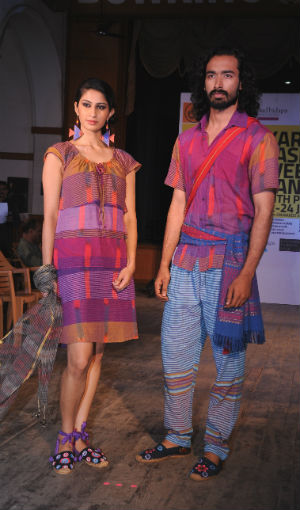 The city's most renowned designer is back with the second edition of the Karnataka Fashion Week (KFW). Like last year, Prasad Bidapa is hosting the event with a mission to put not only Bangalore but also Karnataka on the fashion map of the country.
Alongside providing a platform for local designers, KFW also wants to bring the textiles of Karnataka to the forefront of the fashion industry. The event is meant to increase the global presence of south Indian design, while highlighting the culture and sophisticated glamour of the state.
KFW will be a three-day extravaganza featuring India designers like Anjali Sharma. Pallavi Foley, Raj Shroff, Ritu Pande and Abrar Ali. In addition, Bibi Russell from Bangaldesh, Sonali Dharmawardena from Sri Lanka and Rizwan Beyg from Pakistan are being specially invited to showcase their collection.
Each day at the event will represent a different theme. Day one is dedicated to the khadi and handloom industry, day two to bridal wear and day three to prêt-a-porter brands.
Budding design students from the city's most prestigious fashion institutes can be a part of the KFW through the Khadi Khouture Contest. The contest will constitute creating an outfit made of khadi. Shortlisted entries will be showcased on the ramp.
The Karnataka Fashion Week is an effort to bring to light the khadi culture of Karnataka. A fabric that is considered endangered in the fashion world, Bidapa hopes to position the "freedom fabric" as luxury.
Karnataka Fashion Week will be held at the Bowring Institute from January 22 to 24.