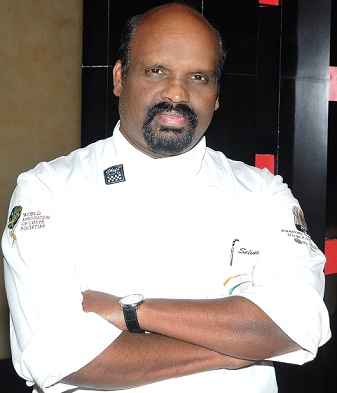 Chef Ramasamy Selvaraju
Executive Chef – Vivanta by Taj – MG Road
When and how did cooking start as a profession?
My mother was my inspiration. I developed an interest in cooking because of her. I won my first medal in 1984 at the Chennai Catering College Food Competition. After that, in 1985 I won at the Chennai IHM. That's when I realised that I actually could look at this as a career.
What do you think of the dynamics of the food culture in Bangalore?
Bangaloreans know what they are eating. They appreciate, give suggestions and feedback. They are full of energy when it comes to giving their views and they don't hold back when they wish to encourage you or appreciate you. They know their food. A lot of them know a lot about cooking.
If one were to criticize your food (say, Marco Pierre White), how would you react?
I am open to constructive criticism. I will first absorb his feedback and then analyse if he is making sense and if his argument is right. If he is, then I will definitely admit it and work to satisfy him. If I disagree with him, I will put forth my points and educate him politely.
Chef Selvaraju was recently conferred upon, the title of Chef of the year by the ministry of tourism