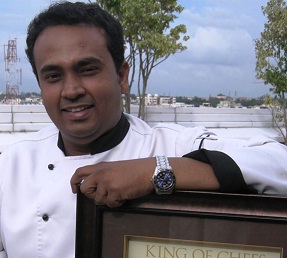 Chef Rana Dominic Gomes
Executive Chef, Hotel Royal Orchid
1. What drew you towards cooking?
My inspiration is my father who was a continental chef. It's been a family profession.
2. How long have you been a chef?
This year June I will be completing 21 years as a chef.
3. What has been your most memorable moment as a chef?
There are many – one, when I got my appointment letter from The Oberoi Bangalore; getting feedback about my cooking from former president Mr Abdul Kalam; and winning the title of King of Chefs at the Explocity Restaurant Week in 2010.
4. Which is your favourite Indian dish?
I love Indian food. Our cuisine is so flavourful that even world recognises it. In Indian food, I love Goan Vindalo, Biryani, Kerala Crab Curry, Appam, Mysore Pak, Masala Dosa and Tandoori Kebabs.
5. What is your advice to young chefs?
Whatever you do, ensure that it is the best. I often tell my juniors that if they are preparing even something simple like a fried egg or an omelette, it has to be  different from what people make in their kitchens.