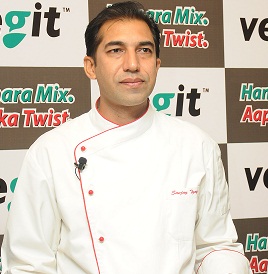 Chef Sanjay Tyagi
Umerkot
1. How long have you been a chef?
I have been a chef for 23 years.
2. What are your signature dishes?
Gosht Nalli Afgani, a mutton preparation is my signature speciality
3. Who or what inspired you to take up cooking?
My grandfather's constant demand for innovative and new recipes at home was a big inspiration for me.
4. What has been your most memorable moment or biggest achievement as a chef?
My dinner in the kitchen of maharani Gayatri devi - I was part of the team of chefs that helped in preparing a lavish meal for a group of VIPs. At the end of the meal, Maharani Gayatri Devi personally saw to it that we had our dinner right there at the palace.
5. What kind of food do you personally enjoy eating?
Simple homemade food is my favourite.
6. Why do you think there aren't many women chef around?
I think it's a misconception. There are lot of women chef around in India and internationally.