From Wednesday, Feb 26 through Sunday, Mar 01 2020, the "Million Dollar Quartet" will perform in Bangalore. 
This event deserves special mention as there is little doubt that the rock and roll loving Bangalore audiences will connect instantly with its theme - 24 of the most iconic hits including, "Blue Suede Shoes," "Long Tall Sally," "I Walk the Line" and "Great Balls of Fire."
This musical captures a session in a recording studio -- on Dec 04, 1956 -- when legends-to-be, Elvis Presley, Johnny Cash, Carl Perkins and Jerry Lee Lewis met at Sun Records in Memphis, Tennessee (Elvis's hometown) for a jam session. 
There's a theory that a sound engineer, Jack Clement, recorded the session without them knowing, but proof of this is a little dodgy for various reasons in evidence. For example, in a later interview, Johnny Cash said he stood furthest from the microphone because he was obliged to sing everything an octave higher than his range. So that "he could blend with Elvis".
For another, during the session, Sam Phillips, owner of Sun Records, called a local newspaper, the Memphis Press-Scimitar (the paper closed in 1983). Robert Johnson, the newspaper's entertainment editor, came over to the studios with UPI representative Leo Sora with photographer George Pierce. Johnson reported the session in the next day's edition (Dec 05, 1956) calling it the "Million Dollar Quartet" in recognition of what he thought their salaries at the time would have been.
The point is that the event merited such romantic notions; of secret recordings that would have been lost to the world but for a canny and surreptitious recording engineer.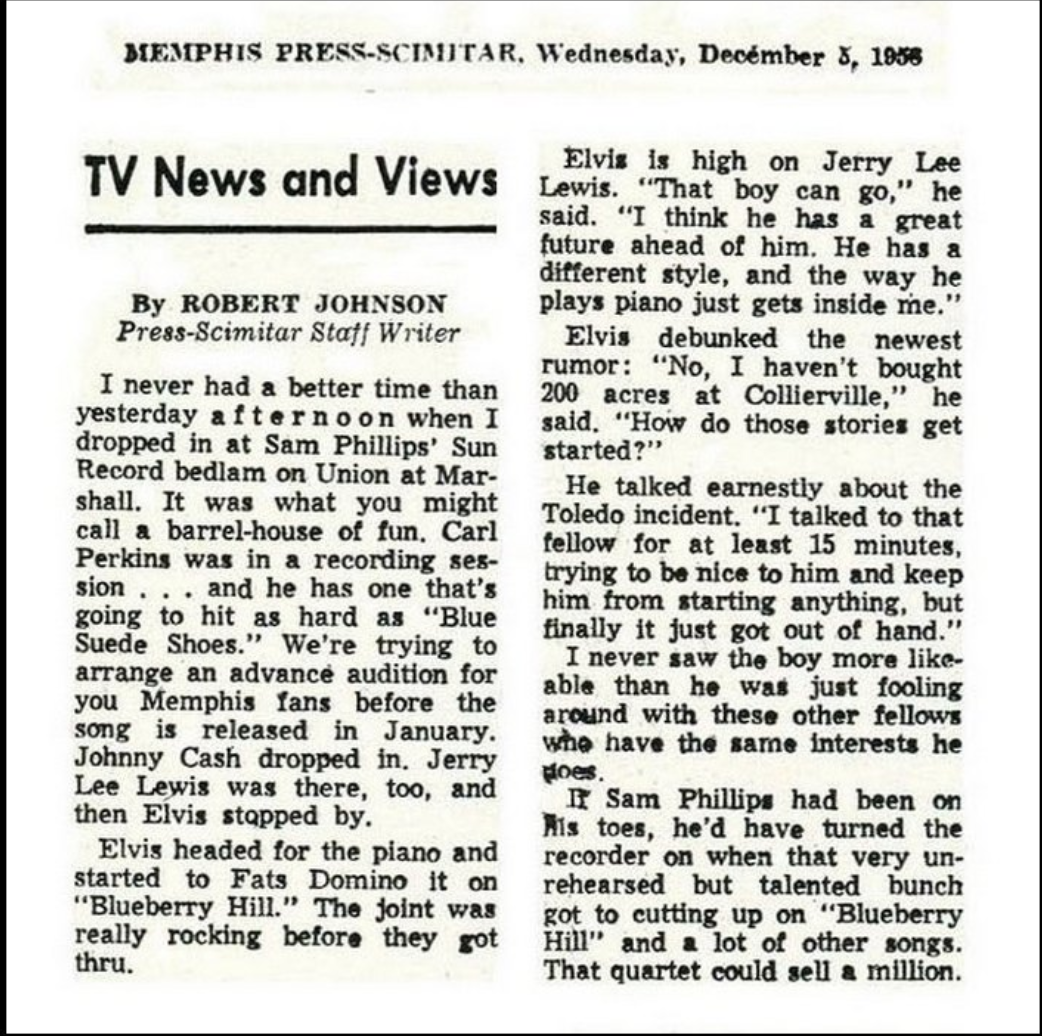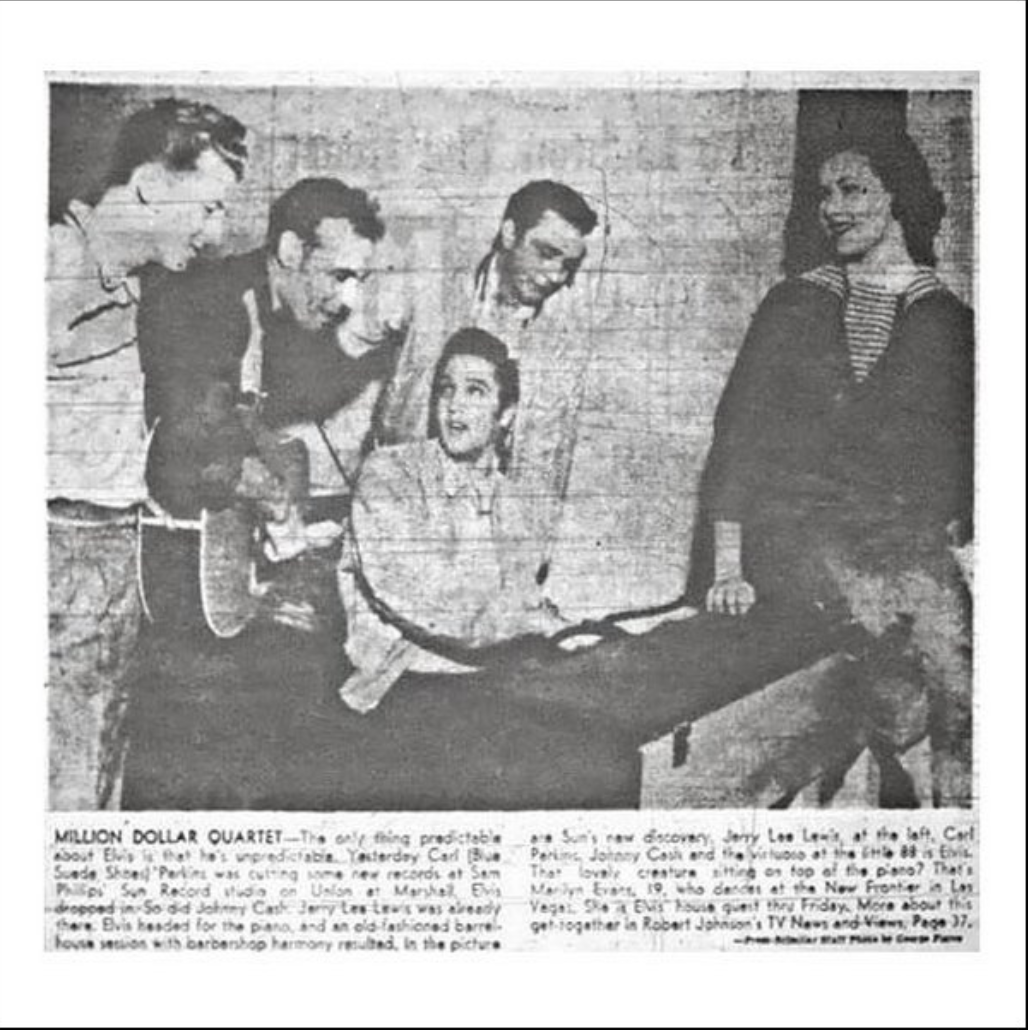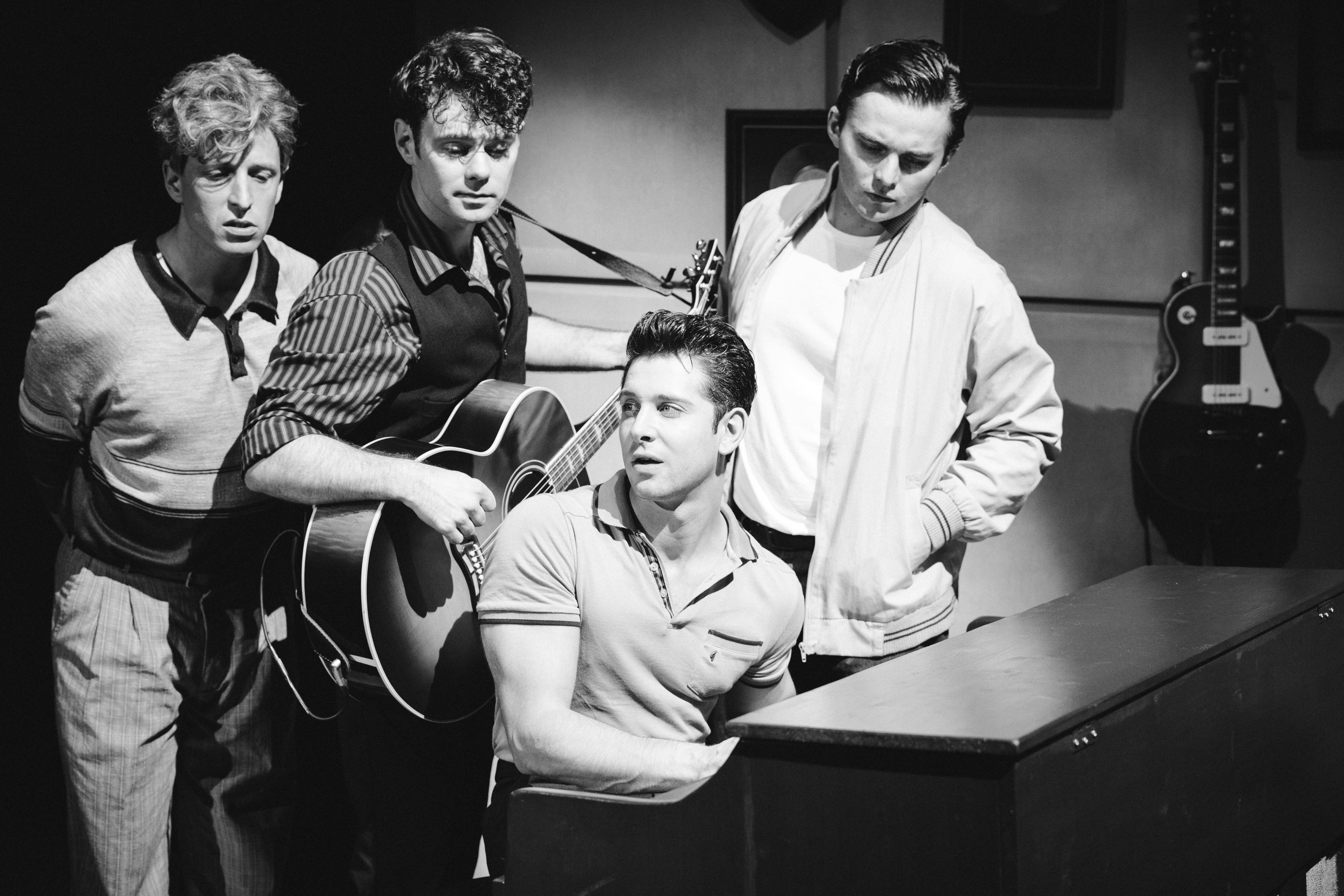 (This article https://explo.in/39T7i0K is the source of a number of other photos of the event.)
In a session that lasted a whole day and and night, the quartet recorded over 40 tracks. The Million Dollar Quartet musical could squeeze in only 24 of these songs.
Rock and roll music was the glue of social interaction in its day. It was youthful, defiant, high octane and was a platform for joyous social intercourse, to make a fine point. The musicians were, of course, more than heroes. They were idols.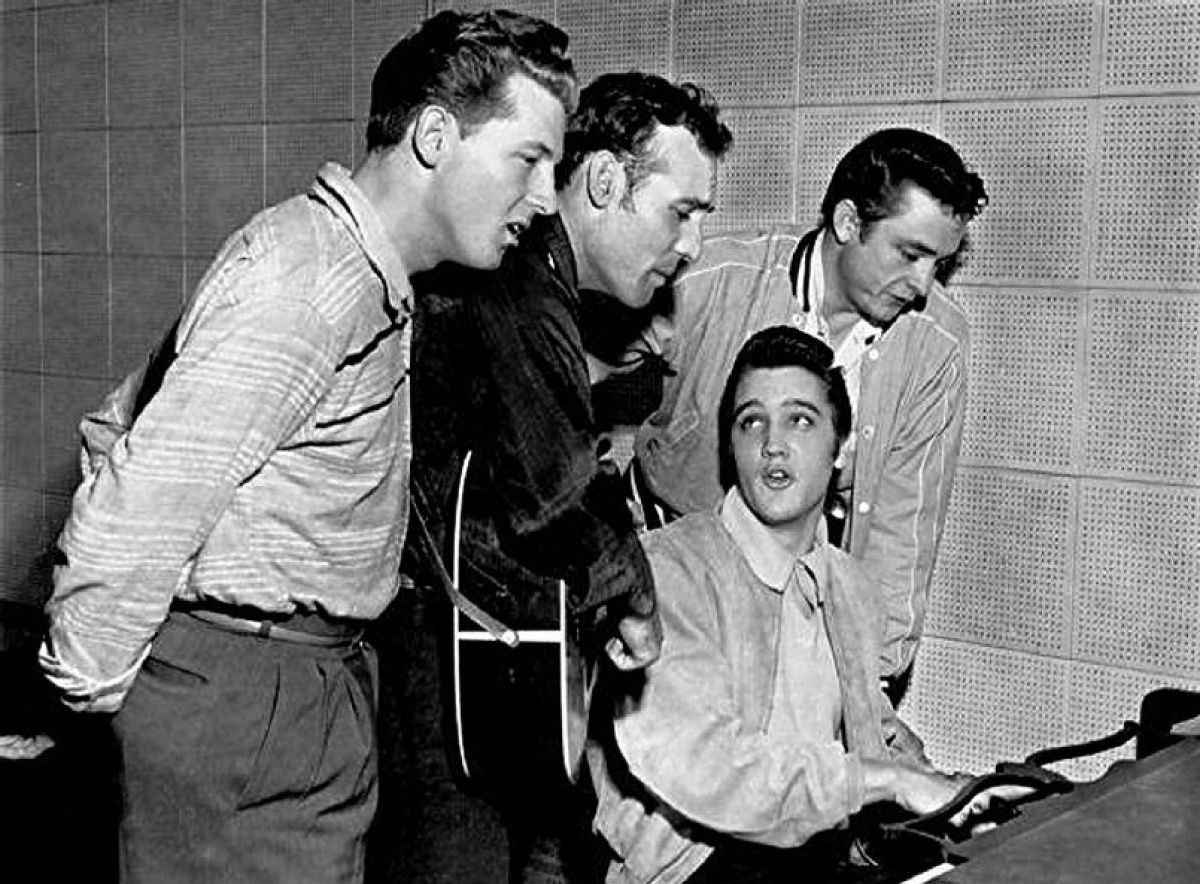 (By Source, Fair use, https://en.wikipedia.org/w/index.php?curid=31656737)
At the time of the recording though, million dollar salary or otherwise, they had not hit the peak of their careers and indeed, this session helped propel them. Again to use Johnny Cash as an example, he hadn't yet broken out as an artist, but the next year, he recorded his mega hits, "Folsom Prison Blues" and "I Walk the Line."
In Bangalore, the cast includes Peter Duncan (Sam Phillips), Robbie Durham (Johnny Cash), Katie Ray (Dyanne), Ross William Wild (Elvis Presley), Matthew Wycliffe (Jerry Lee Lewis), Philip Murray Warson (Carl Perkins).
This raises a question: who is "Dyanne"? And what role does she play? According to published reports, "Dyanne" is loosely based on a girl that Elvis brought to the session, Marilyn Evans. Like everything else about Elvis, the presence of Marilyn Evans in the session has raised interest to the level of conspiracy and conjecture. She was probably a friend that Elvis had brought along for the ride. And then there was little heard about this individual. Grist for the conspiracy mill. 
The question about how she made it to being featured in "Million Dollar Quartet _ The Musical" is often answered with the notion that she was a convenient addition to the mix because, "... why bring up an empty argument? For all those with a stake in the "Million Dollar Quartet" show at the Apollo Theater in Chicago, the answer is obvious. First of all, for wider audience appeal, the act needed a female presence (preferably a shapely blonde). Thus was born the character of Dyanne, played by shapely blonde..." - elvishistoryblog.com.
Years later, someone found her. Read this: https://explo.in/2HIYm21.
Peter Duncan, who plays, Sun Records owner, Sam Phillips, is an interesting peson. According to the publicity, He became best known for his daredevil approach to life when he joined the Blue Peter team in 1980. He ran the first London Marathon in just over three hours, fought a sumo wrestler in Japan, cleaned the clock face of Big Ben and escaped from a forest fire in Canada. He was awarded a Gold Blue Peter badge for his volunteer work as leader of the UK's half a million scouts.
The stage production is written by Colin Escott and Floyd Mutrux, directed by Olivier-nominated Ian Talbot OBE. The event is presented by Mumbai based Blank Slate who have brought major West End productions such as Agatha Christie's "The Mousetrap" and P. G. Wodehouse's "Jeeves and Wooster in Perfect Nonsense" to India.
Million Dollar Quartet will be performed over seven shows at St. John's Auditorium, Koramangala, from February 26 to March 1, (two shows on Saturday and Sunday). Get tickets on Book My Show.