As with many people in the pandemic, Kumar's thoughts turned to dogs and about how people would take care of them. He wondered about the mental health of the dogs. How would the lockdown affect their mental health, without being able to go on their regular walks?
What if the pet parents were old, ailing or quarantined and unable to walk the dogs?
So he launched Bangalore Dog Walking Service.
"Dogs are loyal and protect us, but they need freedom also," Kumar told Explocity. "I don't like to see dogs tied up so I try to bring some mental freedom to them." 
When Naveen Kumar's event management business waned, he started walking dogs with his friend. He then decided to turn this service into a business. He launched the service in November 2020. Luckily for him, his brother is a software engineer and he helped him map dog parents and match with dog walkers. (This service is not yet a downloadable app.)
Since he launched, Naveen Kumar has walked about 30 dogs and has recruited some 250 dog walkers.
A dog walking service has its own challenges. It's not like a taxi or delivery service which can be impersonal and transient. 
Most pet parents do not distinguish between dogs and children. The dogs in most peoples' homes are their children. So a dog walking service is no less important to them than a creche for their kids or nursing for infirm parents.
So, the mechanical part of his business was relatively simple to accomplish with technology. Kumar is able to map a walker to a dog owner based on the latter's GPS location. Naveen Kumar meets the walker at the dog owner's location to familiarise the dog with the walker and build trust with the pup.
The human side of the business is everything that goes with caring for dogs. To being with, the dog and dog walker must get along. If they don't, for whatever reason, he will find another walker. 
Naveen Kumar's walkers are all above 18 years of age and are verified by him. He has a record of their government IDs, which he shares with customers so they are reassured. "Our walkers are pet friendly and they are regularly tested for Covid." He also makes sure the walkers are safe and happy. "Their safety is just as important as the dog and dog parent's safety. So we avoid aggressive pets."
The growth of his business, of course, depends on finding more customers — read, dog parents — and recruiting more walkers. He pointed out that dog walking is a great side hustle when things are bad during the pandemic. For pet parents, finding a dog walking service that their dogs love would be an immeasurably happy find — especially if they are busy or need to travel.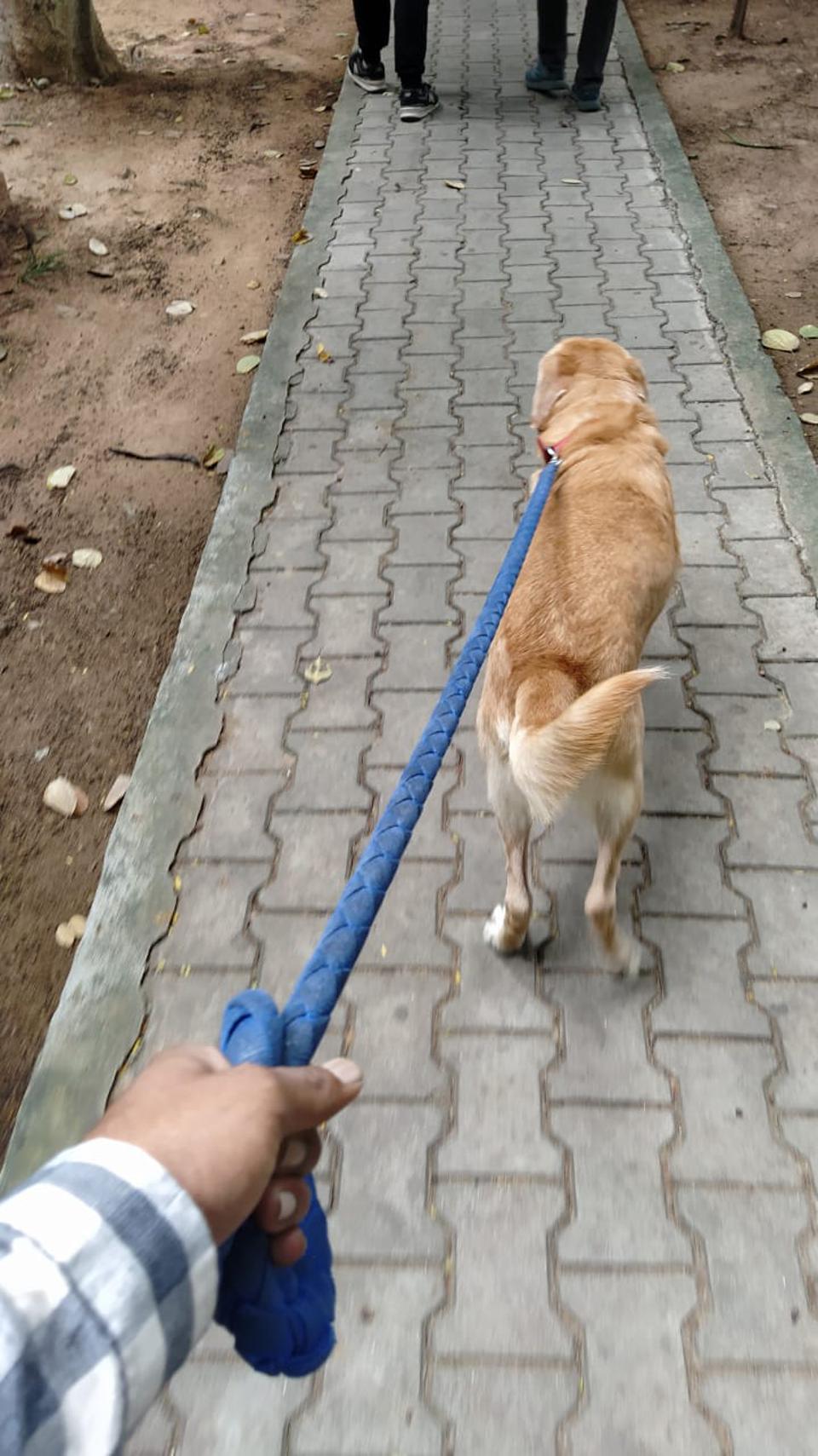 Naveen Kumar's dog walking service charges about Rs 6000 per month. Dogs are walked six days a week. Walks last half an hour, sometimes an hour — 30 minutes in the morning and 30 minutes in the evening. There are also customised packages depending on what the customer needs — and that includes the option of walking the dog up to even four times a day if that is what the customer wants.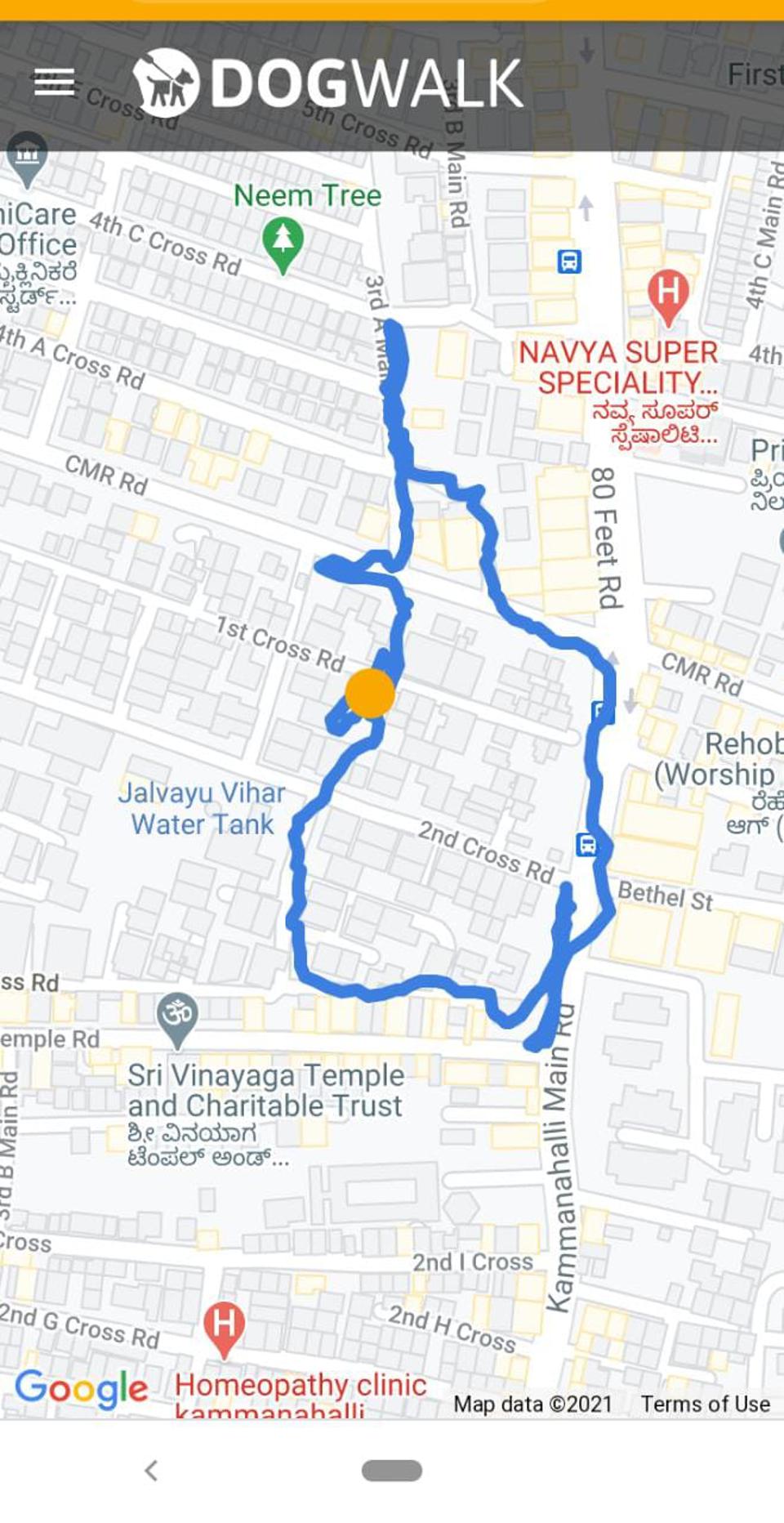 Naveen Kumar is a former Karnataka basketball player whose previous job in the Decathlon sports store, helped him build his event management company. But the gears of Naveen Kumar's event management business ground to a halt with the first Covid lockdown in 2020. "I'm hoping my events company can be revived soon after Covid," he said.
If his service catches on though we predict he will have enough business to keep him occupied.
Naveen Kumar can be contacted here: cakradogwalking@gmail.com