The morning after I dined at "Amiel Gourmet", this new bistro (inexplicably not called "Chez Amiel"), a surprise box was delivered to me—a surprise breakfast box. It had breakfast croissants.
If this is how Frenchmen treat you the morning after they invite you to dinner, I can totally understand why Emily won't go back to Podunk.
And here I am, cross-legged in my pyjamas, contemplating the bread, which tastes like a reward, and then I fall back on my pillow and think of the meal of the previous night in a fit of Emilyness.
When someone from Amiel's camp reached out to ask Explocity to send someone to write about their summer menu, I pulled rank. I know of Amiel Guerin and I know he was key to that great food in Cafe Noir—where I have relished many satisfying salads, leaf by tasty leaf. Like I was going to "send someone".
Not even the thought of the "traffic to Sahakar Nagar" bit daunted me—not only because of the anticipation of great joy at the other end but also because I got my dinner companion to chauffeur and chaperone me so I did not have to battle said traffic. As it turned out, there was little traffic to battle… you might say there was no guerre en route Guerin (take that, Duolingo.)
And now to get to work.
Chef Amiel Guerin gets a box of produce from the Nilgiris every Wednesday.
It is also a surprise box—artichokes, celeriac, mushrooms or watercress. The Eureka Lemons seem to excite him. These are fresh ingredients for the next week's menu. His new summer menu. A mark of a good summer menu is fresh, seasonal ingredients. "You get everything in Bangalore these days," he explained. (Except for the stuff he gets from the Nilgiris, I suppose.)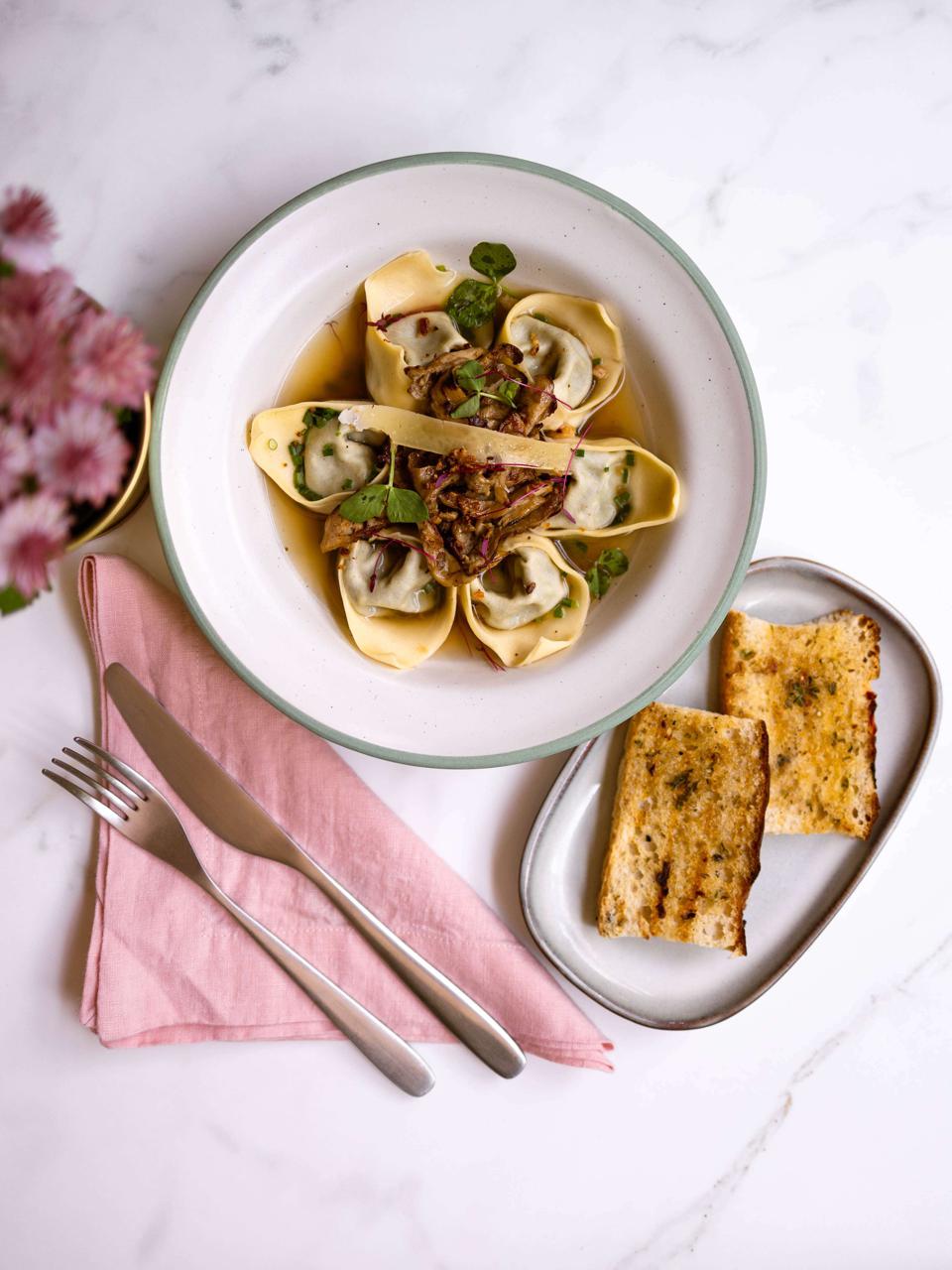 The cuisine at Amiel Gourmet is "modern French". He calls it that—rather than "traditional", I'm guessing—because he uses local ingredients. Modern French cuisine is all about using really good ingredients that are in season, cooking them just right, and making the food look really pretty on the plate. They love their veggies, seafood, and lean meats, and they're not afraid to experiment with new techniques and global flavours. Some of these chefs are really creative and like to play around with the food, but they still respect the old-school French ways of cooking. So there's sous vide, pickling, and the like.
First, the salad course—Monterosa tomatoes and burrata.
The tomatoes are local and the cheese is local. But Chef Amiel is all about the showcase. There was so much more to the salad. Each element popped. The burrata had a light wasabi oil dressing, the edible greens were lightly dressed, the fresh berries and pickled onions complemented each other perfectly. What blew us away were the cherry tomatoes—skinned and marinated in spices such that the flavours were injected into the tomatoes.
I was reluctant to speak whilst enjoying a terrific meal, but work is work and I asked him why Caponata is a summer dish. It's full of raisins and pine nuts—Chef Amiel's version had hazelnuts—and these are normally eaten to keep warm in winter. But in the summer, hydrated raisins are a source of water and nutrition for the body, he explained. Also, the Caponata is usually served on a crostini but Chef Amiel serves it on a bed of millets, "because it is the Year of the Millet in India".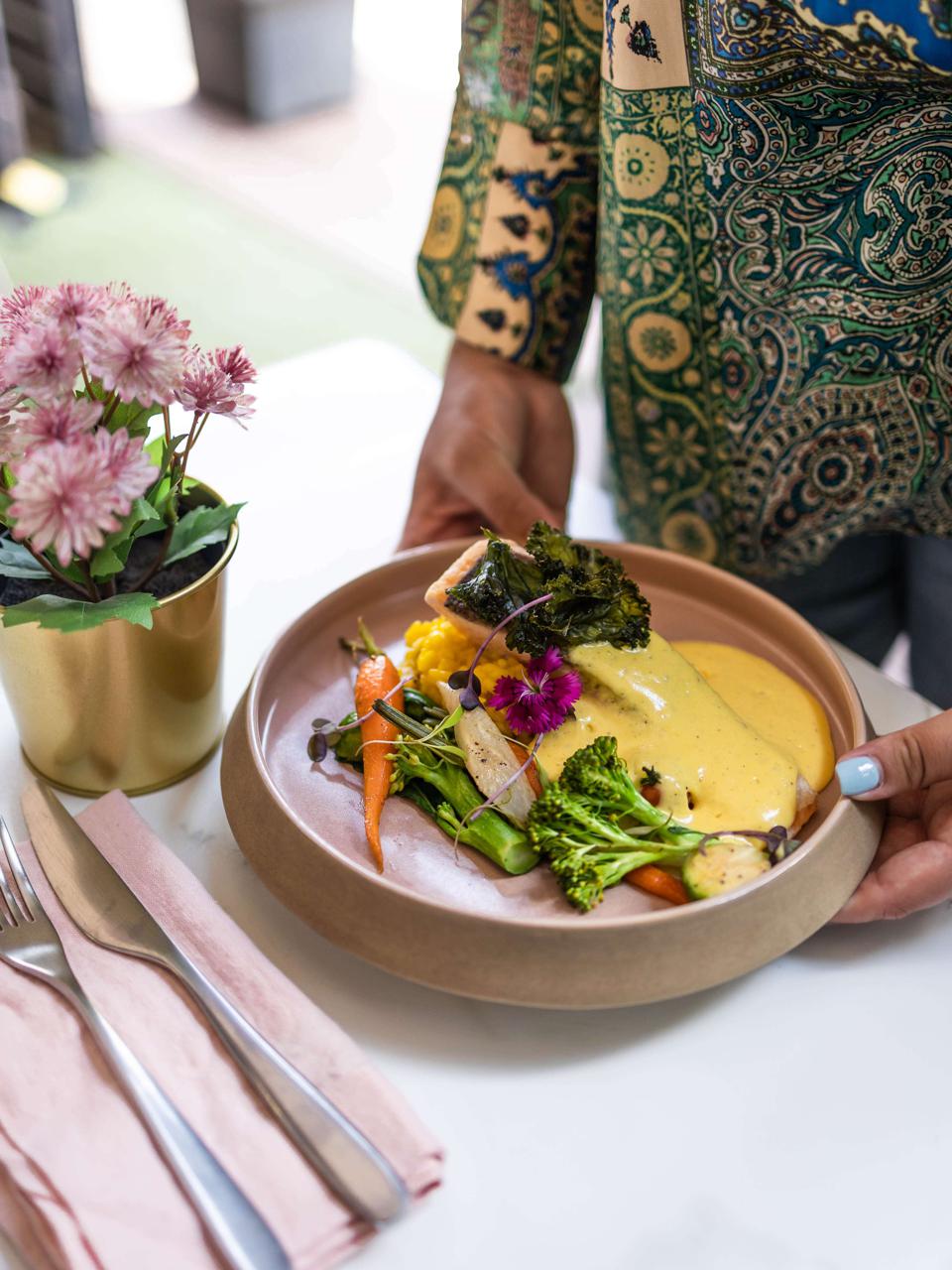 Another facet of a summer menu is the use of sauces. Thick roux made with lots of fat makes way for lighter sauces like hollandaise. There was that on the Salmon On A Bed Of Saffron Risotto With Saffron Hollandaise And Roasted Veggies. I capitalised that not because it is the name of the dish, but in tribute to its greatness. (I refuse to speak of Amiel's Salmon On A Bed Of Saffron Risotto With Saffron Hollandaise And Roasted Veggies in the lowercase.)
The craft of a great chef is that subtle extra they bring to the cooking. I would quote the example of Guerin's use of olive powder on the side, for the salmon dish. If he had not used it, no one would have known better. But he did. And took an already great dish to another level.
And what of that surprise box from the Nilgiris? Today, we had zucchini, broccoli, and most delightfully roasted brussel sprouts. 
I could talk about the dessert, but in this time of surprises, I won't ruin his dessert surprise.
Everything that's on Amiel's plates has a reason to be there—their flavours add meaning to the dish. Except for the edible flowers, "They're just pretty," he smiled. 
About the sourcing, there's an increasing number of chic, hydroponics-based farming in Bangalore and they provide local chefs with variety. And Amiel Guerin enjoys the earthiness of it. "I'm a countryside boy, I love the taste of mud in my food," he said about hydroponics.  But being a boy from Brittany, he does tend to be particular about cheese and so, he sources his Emmenthal cheese from France.
And there's this bread I have received. And as I sink another putt of it into my mouth, I think of the rather weird feeling of not having overeaten and unhappy and walk-of-shame-y but rather, with the totally bearable lightness of being able to enjoy breakfast croissants. I mean all this despite that huge meal I had last night.
I sat thinking that this is a testament to the culinary skills of Amiel Guerin and I tried to tell him this but he's modest and he said that good cooking is all about the freshness of the ingredients that you get.
But as every woman knows, it's not what you have but what you do with it. 
Guerin has spent since 2010 in India; and now, he opened a bistro—Amiel Gourmet—because he runs a bakery-patisserie-kitchen thing in Sahakar Nagar and there was some space out front. So, bistro. Amiel Gourmet is located here: https://bangalore.explocity.com/bangalore-guide/listing/amiel-gourmet