At Champaca, 21st October, 2023
The atmosphere at Champaca during the late evening lent an enchanting ambience to the event. The audience gently joined Chandran Sankaran as he sang Leonard Cohen's "Hallelujah," creating a magical moment on that Saturday. Sankaran paused, allowing everyone to savour their own voices and this was a surprising occasion when the audience was in tune. (Unlike when people sing Happy Birthday in what they think is in time and with puzzling harmony.) This time, they were singing, respectfully, as though in church.
This intimate exchange was an example of Sankaran's journeys through being an accomplished entrepreneur and passionate singer and what was clearly his ability to connect with his audience.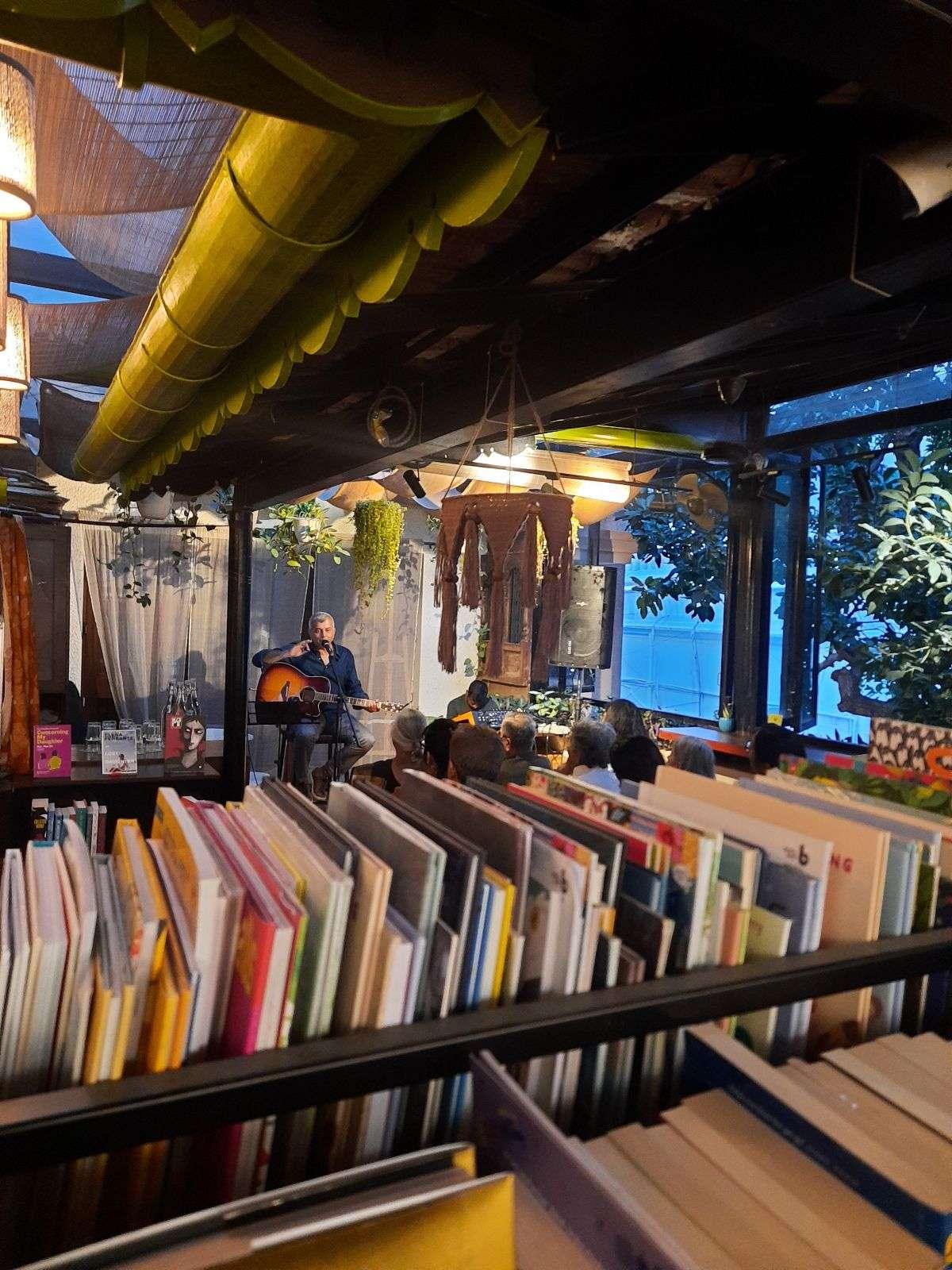 At Champaca, the event was called, "Living Life Through A Dozen Songs"—a performance guided by the lyrics of both famous and lesser-known songs. Sankaran introduced the evening by saying, "Over the next hour, there will be a lot of love songs, and love songs often have great muses, don't they?"
And the Muse he spoke about was Pattie Boyd, who was Muse to both George Harrison and Eric Clapton and had been intimate with both.
"Something"—a love song written by George Harrison of The Beatles for his then wife, Pattie Boyd—a fashion icon in 1960s London. Harrison's close friend, and musical collaborator, was renowned guitarist and singer Eric Clapton and he fell in love with Boyd.
And Clapton, too, wrote a song about her. He composed "Layla"—drawing inspiration from a 12th-century Persian poem about the agony of desiring someone unattainable.
As it turned out, she was attainable.
And that was the end of the George and Pattie partnership. Now there was the new Pattie and Eric romance and that led to them getting married.
Their tumultuous marriage was marked by Clapton's struggles with drugs and alcohol. During this period, Clapton composed another classic, "Wonderful Tonight" for his muse Pattie Boyd.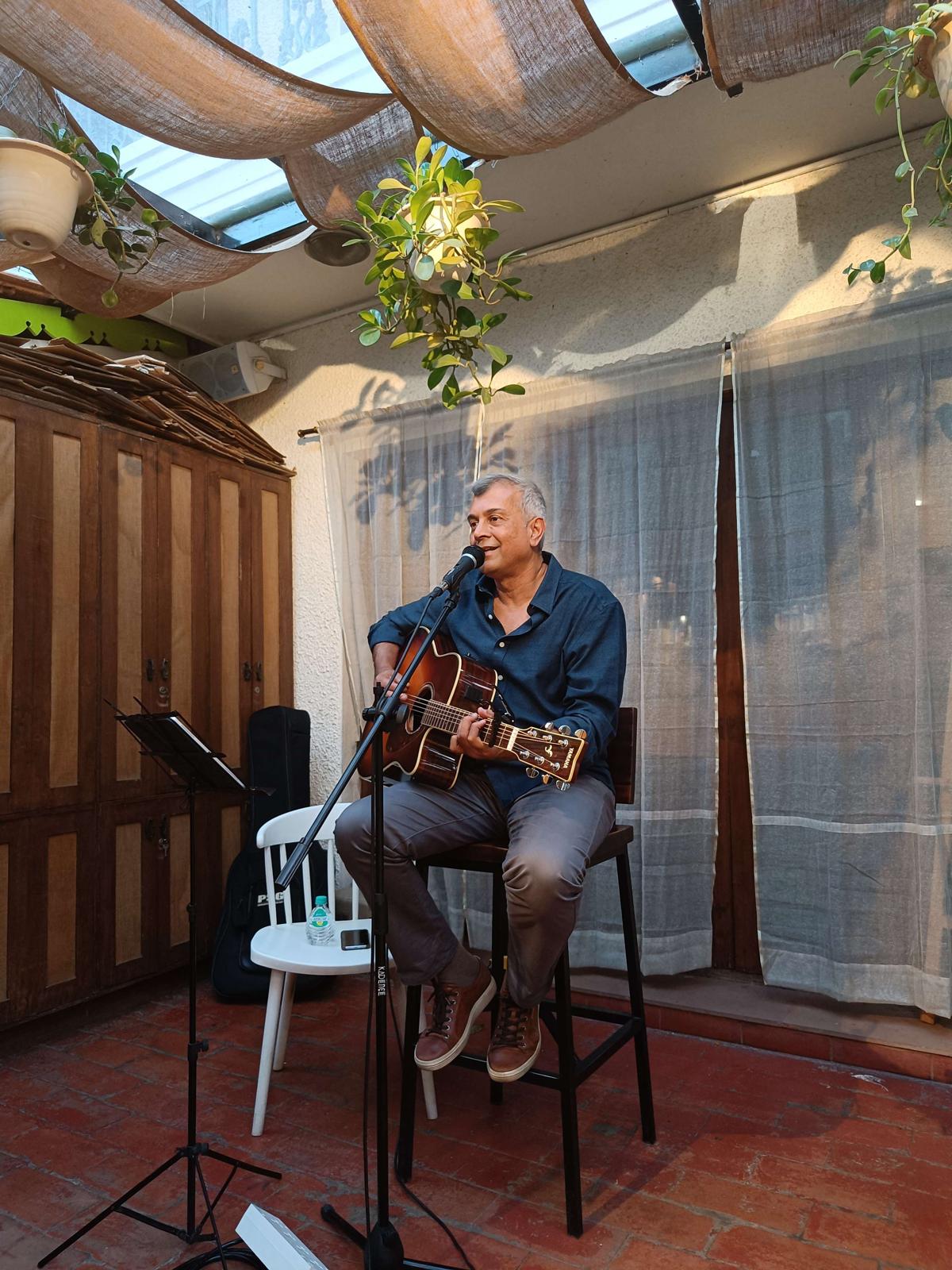 Sankaran spoke of his growing years as being instilled with the virtues of keeping emotions in check—lest they should take away from the need to project oneself as cerebral, this being the stereotypical south Indian obsession—but music was his path to experiencing and expressing emotions. So much, he said, sometimes the lyrics he sings choke him up.
And another example of the rule of Muse and being subsumed to the emotion in the lyric was the electro-pop tune "Madness", by Muse frontperson, Matt Bellamy. He got into a fight with his squeeze, actor Kate Hudson—daughter of the iconic actor Goldie Hawn, who is also an elephant enthusiast and a known regular in the elephant camps at the jungles of Kabini and Masinagudi.
Kate Hudson walked out on Bellamy in a huff and went to her mom's and Bellamy, in his upset, wrote, "Madness" with these lyrics, "Some kind of madness is swallowing me whole."
Sankaran's lec dem was a well-scripted breakdown of the lyrics of pop songs, but so much more relatable when spoken as the personal experiences of the singer, rather than as an exercise in pedagogy.
It was not all about the "lyrics we know'' but also some interesting new information, such as the story behind "Searching for Sugar Man"—an amazing documentary about Sixto Rodriguez, a US musician (and construction worker in Chicago) who was unknown in the US but a megastar in South Africa—where everyone thought he was dead. And how two obsessed fans set out to learn the man's true fate.
At Atta Galatta, 28th October, 2023
The evening, titled "That Line In That Song", was at the lovely Atta Galatta bookstore and was set in their auditorium they have built, with performance-worthy acoustics. The performance was similar in structure to the one in Champaca, so we will spare you those details.
But this evening, Sankaran dwelt more on the connection we feel to lyrics. And if we were to stop and listen, often contained in these lyrics are literary gems. One example is the song by KT Tunstall, "Suddenly I See"—the title song from "The Devil Wears Prada"—and in that song, this evocative line, "Well her face is a map of the world, is a map of the world…"
Sankaran's lec dem was filled with these nuggets from the world of popular music and gave the audience a new channel to the song—this time from the lyric.
So, how did Sankaran develop his interest in song lyrics?
He explained that we have all grown up listening to songs and singing the lyrics with feeling. But sometimes, we sing the lyrics phonetically as a jumble of syllables; or simply make up words when we didn't catch the lyrics, maybe because some songs contain cultural references that are alien.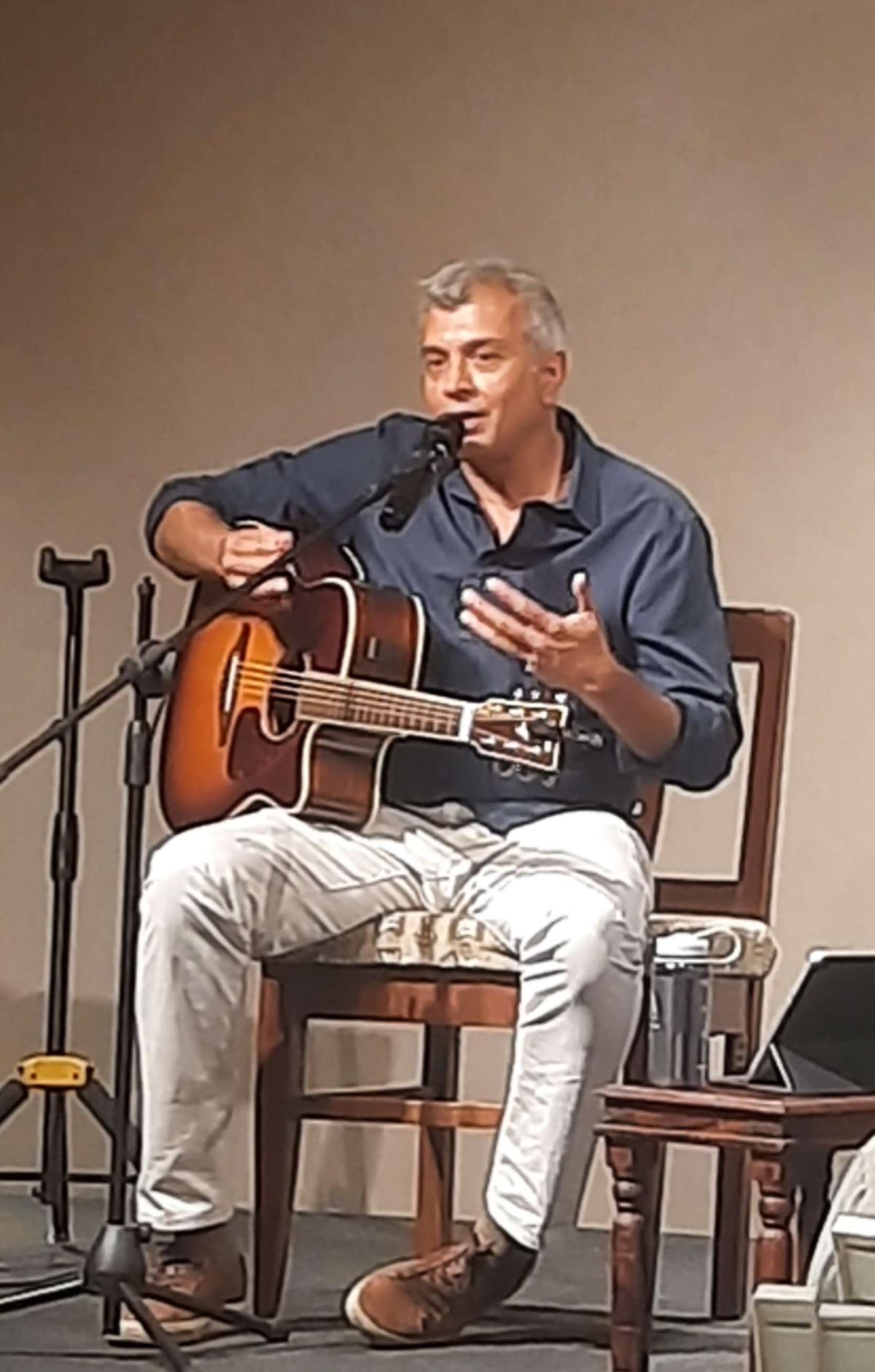 Sankaran cited Hank Williams's song "Jambalaya (On the Bayou)", which includes the lyrics, "Jambalaya, and a crawfish pie and a fillet gumbo"—long-time a favourite party song in India. But as we sang those lyrics did we even know what a crawfish was or what fillet gumbo tasted like?
"I had no idea what those words meant," Sankaran confessed.
And it was not till much later, when he paid closer attention to the lyrics of songs, that he even found out.
Sankaran engaged the audience by asking them to interpret the meaning of "...behind blue eyes" in the eponymous song by The Who. Various interpretations were shared, ranging from clichéd notions to social commentary on Western culture's perceived privilege.
However, the room fell silent when an audience member pointed out the lyrics:
"And if I swallow anything evil,
put your finger down my throat…"
prompting an audible gasp from the participative and appreciative audience.
Chandran Sankaran said that he might have a repeat performance at Atta Galatta. Watch this space to learn more.
With reportage from Sanjana Jayashankar and Lavanya Singh students of Mount Carmel College, Department of Communications
Lead pic: Sanjana Jayashankar.
Update: Bangalore International Centre on 8th Nov, 2023.  Sankaran's third show at BIC was attended by some 70 people. The audience response at all three shows has been wonderful, leading Sankaran to schedule more shows during his next Bangalore visit.