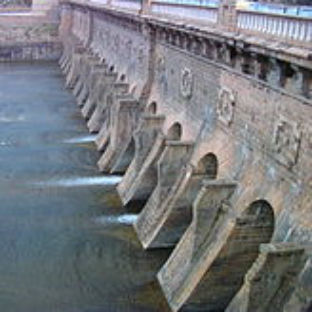 Newspapers report that the city may be only a week away from a "full blown" water shortage crisis. The solution appears to be release of water from the Krishnarajasagar Dam reservoir (KRS), but against a need of 600 cusecs of water every day, the city reservoirs only receive 340 cusecs.
On Tuesday, May 14, the water level stood one foot below the "dead storage" level of 65 feet. The Bangalore Water Supply and Sewerage Board (BWSSB) confirmed this, adding that it had received 110 MLD (million litre per day) of the water that was released from KRS a few days before.
According to the Times of India, T Venkatraju, engineer-in-chief, BWSSB said, "The situation is grim and we are in constant touch with the Cauvery Neeravari Nigam to release water to the KRS dam. We have also asked the irrigation department to compensate us with whatever amount."
The BWSSB has no immediate solution. "How can we have contingency plans when we are more dependent on the Nigam, which is more powerful in terms of allocation of water from the Cauvery River?" Venkatraju asked.
The BWSSB's last hope is that of its pumping station in TK Halli, which can draw KRS water from levels lower than the Hongahalli station. The other source of water that Bangalore can rely on is the Tippagandanahalli reservoir, which is also not enough to serve the city's water needs.
Pre-monsoon showers have increased water levels, though rapid evaporation is making pumping water nearly impossible. Some 'green' agencies have become more vocal for an aggressive plan to implement rainwater-harvesting plan.
Source: Various