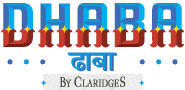 Another stop in the sparse Indiranagar F&B landscape is Dhaba by Claridges. The hotel chain experimented - successfully we hope - with Dhaba in 2013 in Delhi. They are now all set to do that in Bangalore.
Corporate Chef Ravi Saxena has divided the menu into three parts: tawa, tandoor and Patiala. When asked about the style of the menu, he commented saying, "No matter what cuisines we try, Indian food is what we have grown up on and desi tastes will always remain close to our hearts. With Dhaba by Claridges, I have tried to please our guests with signature dishes which resonate the typical flavours found at dhabas like Balti Meat and many more delicacies. We have ambitious plans for Dhaba by Claridges."
Dhaba by Claridges in Delhi has won many awards for being the best North Indian standalone restaurant. They should fit right in to Bangalore's increasingly ethnic.