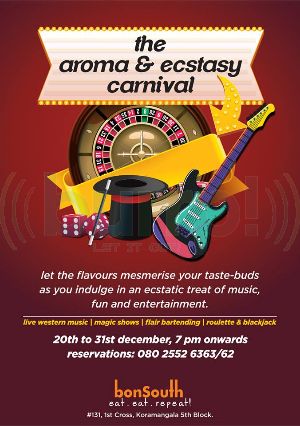 The south Indian restaurant, Bon South is hosting a Aroma and Ecstasy carnival for the first time in Bangalore. The carnival is a 10 day long affair featuring live music, dancing, magic shows, casino style roulette tables, bartending tricks, food and drinks.
Bon South will unveil South Indian fare with a fusion twist featuring 10 varieties of unlimited starters, a main course buffet and an array of desserts specially crafted for the occasion.
The carnival will be on till December 30 and is priced at Rs 700 plus taxes inclusive of unlimited beer. On December 31, the price is Rs 850 inclusive of unlimited beer.