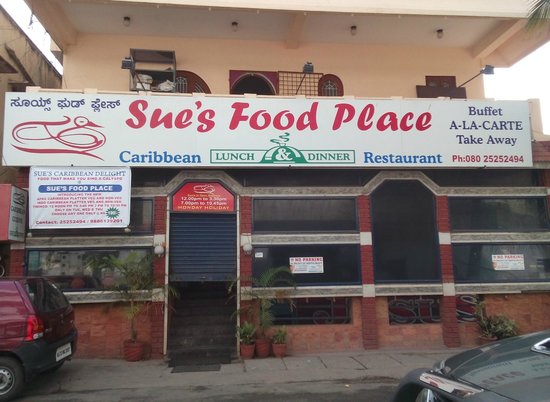 30 years ago Susan John came to Bangalore from Trinidad and Tobago after getting married to an Indian. A new city, a new culture; but she did not want to lose touch with her roots. The only way to do this was to cook. Cook for her friends, family and neighbours. This is how Sue's Food Place, the only West Indian restaurant in Bangalore opened its doors in Indiranagar in 1998.  
But on the 1 May 2016 they served their last lunch buffet as the restaurant closed its door. " I'm not a spring chicken anymore, you know," John says in an interview with Explocity.  "My husband is not well and I have to take care of him so I have decided to close the restaurant."
West Indian cuisine was unique, even in 2016, but also 20 years ago. "When I opened the place it was the only non vegetarian restaurant in town," Susan reminisces. After a few years Nandini opened and then the rest followed. But what most attracted the crowds, then and now, was curiosity. The curiosity to try the cuisine. The only thing they knew about the West Indies was cricket; that was the only link.
The buffet was ever so popular. It was a place where John could play her music and serve her food to guests. They relaxed, at home vibe of the place was loved by the diners. It was difficult at times being a woman alone running the place. "I did not get a liquor licence because I did not want to deal with the bureaucracy". But that never deterred guests.
"I loved all the young people who came to restaurant. The old ones were a bit snobbish I'm afraid, " She confides. "I still love my work but there are so many things to do, I don't know how they managed at home without me all these years." John wants to thank the people of Bangalore for the love she has received. We shall also certainly miss Sue's Food Place.
By Anagha M
(Coincidentally and sadly with this article the author also bids farewell to Explocity)