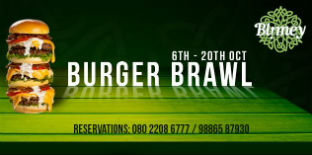 The Irish-English gastro-pub, Blimey, is celebrating Oktoberfest in its own way – with a Burger Brawl Festival.
The festival features a special Burger Brawl menu where customers get one mug of beer for free with every burger. However, for those who favour beer over the burger, they get a burger free with every order of a pitcher worth Rs 750.
The Burger Brawl Festival Menu includes six vegetarian and nine non-vegetarian options as well as fries to go on the side. Japanese, Mexican, Lebanese and Bombay style are a few interesting options but the menu also offers options like the classic Sloppy Joe.
To end, there is an assortment of dessert burgers made with fried vanilla, strawberry, chocolate ice cream, crunchy hazelnut and caramelised banana, all stuffed in bread buns coated with chocolate.