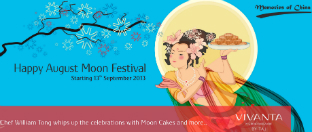 Falling on the 15th day of the 8th month according to Chinese lunar calendar, the Mid-Autumn Festival comes second in grandeur after the Spring Festival in China. It is always celebrated in the middle of the autumn season. On this day, family members gather to revere the full moon.
Memories of China, at Vivanta by Taj, is celebrating the Moon Festival right here in Bangalore. Chef William Tong and his team will be whipping out all the delicacies that etch this famous Chinese festival. The guests can indulge in an array of appetisers like salt and pepper prawns, smoked fish – Shanghai style, spicy salt and pepper spare ribs, five spice sliced lamb shank and more.
The main course offers dishes such as fried rice with egg white, asparagus and dried scallop, Xo seafood and egg fried rice, wild mushroom fried rice wrapped in lotus leaf. The menu also offers deep fried chicken topped with mango lemon sauce, kung-po chilly chicken with cashew nut and double cooked sliced duck Szechuan style among others.
The celebrations come to a sweet ending with the mini August moon cake stuffed with sweet lotus paste, mini August moon cake stuffed with five nuts, hot or cold almond milk shake with sago, and many more.