Coronavirus In Bangalore - Can Your Dog Get It? And Can You Get It From A Dog? A direct answer to the question from experts is "No." Following is a detailed explanation.
Can dogs get COVID-19?
It is true that dogs are susceptible to infection from types of coronaviruses that is specific to dogs, called "canine respiratory coronavirus". But the coronavirus that is being declared a pandemic this specific novel coronavirus, called COVID-19, is believed to not be a threat to dogs.
The WHO has stated, "While there has been one instance of a dog being infected in Hong Kong, to date, there is no evidence that a dog, cat or any pet can transmit COVID-19. COVID-19 is mainly spread through droplets produced when an infected person coughs, sneezes, or speaks. To protect yourself, clean your hands frequently and thoroughly."
Here is what the CDC has to say about it. "While this virus seems to have emerged from an animal source, it is now spreading from person-to-person in China. There is no reason to think that any animals including pets in the United States might be a source of infection with this new coronavirus. To date, CDC has not received any reports of pets or other animals becoming sick with COVID-19. At this time, there is no evidence that companion animals including pets can spread COVID-19. However, since animals can spread other diseases to people, it's always a good idea to wash your hands after being around animals. For more information on the many benefits of pet ownership, as well as staying safe and healthy around animals including pets, livestock, and wildlife, visit CDC's Healthy Pets, Healthy People website."
I love dogs. Can I pet a dog?
According to the American Veterinary Medical Association, petting a dog's fur is a low risk. The AVMA's Chief Veterinary Officer Gail Golab says, "We're not overly concerned about people contracting COVID-19 through contact with dogs and cats." And there's science behind that: "The virus survives best on smooth surfaces, such as countertops and doorknobs," Golab says. "Porous materials, such as pet fur, tend to absorb and trap pathogens, making it harder to contract them through touch."
Dr. Jerry Klein, Chief Veterinary Officer for the American Kennel Club, says, "The CDC has not reported any cases of pets or other animals becoming infected with COVID-19 in the United States or anywhere else in the world, including hotbeds like Italy." Dr. Klein urges common sense best practices when it comes to our pets: "If you have children, you wouldn't have them touch a puppy and put their fingers in their mouth, because they can have fecal contamination," he says. "The general practice of washing our hands after touching a puppy or a dog—that's normal hygiene."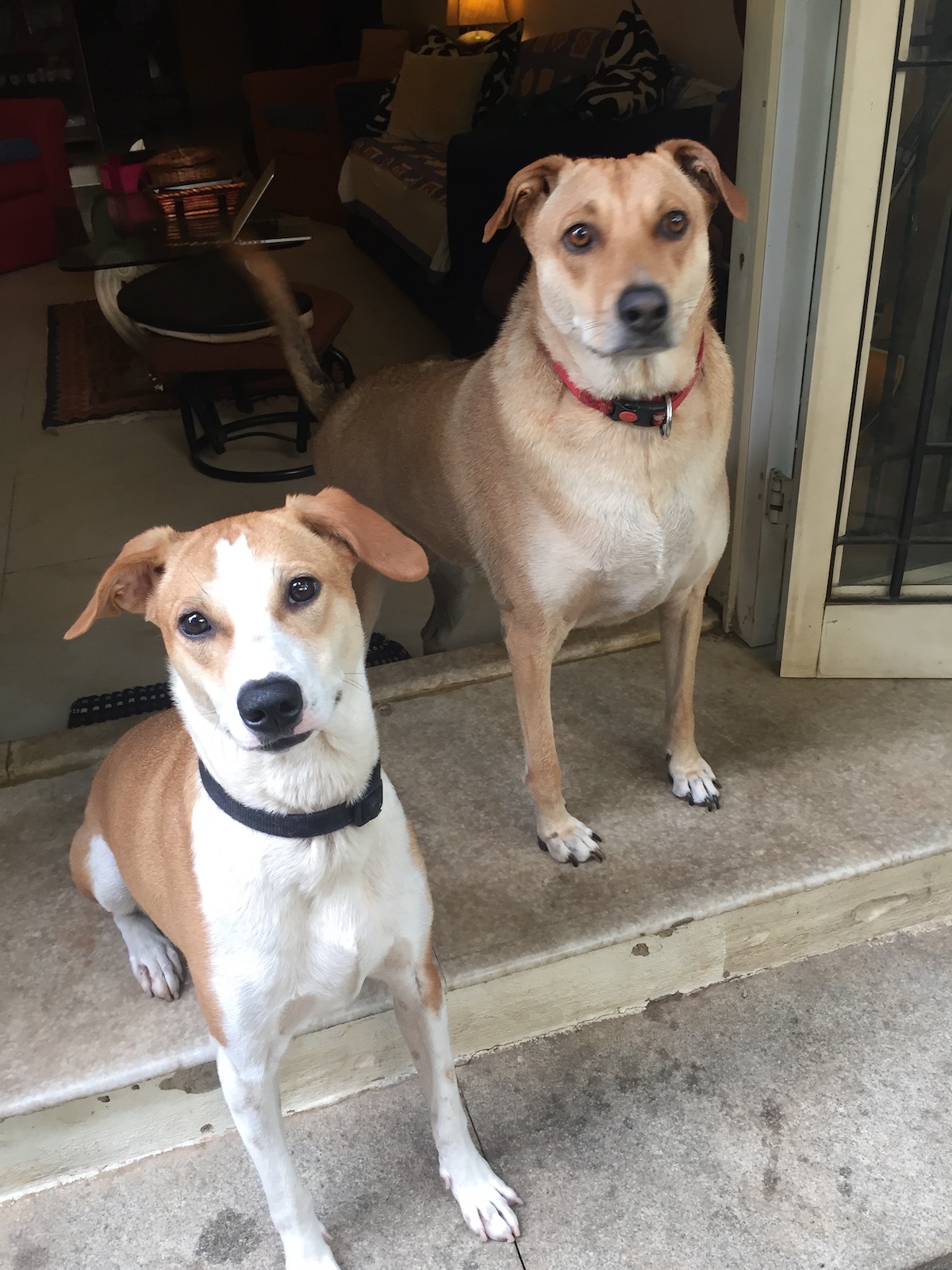 Can I walk my dog?
Physical and mental exercise are extremely important for dogs and dog owners alike. Wash your hands thoroughly for at least 20 seconds before and after each walk. Consider carrying around a pocket-sized bottle of hand sanitizer during your walks. Practice social distancing measures by walking your dog in uncrowded areas when possible.
How can I protect my dogs from canine coronavirus?
For the most part, follow basic hygienic precautions such as washing your hands with soap and water before and after contact with any animal, including dogs and cats. 
If you test positive for COVID-19 or have been exposed to it, experts recommend that you should "restrict contact with your pets, to avoid exposing the pets and to prevent getting the virus on their skin or fur, which might be passed on to another person who touches the animal." You could wipe your pet's paws when they come in and out of the house with a paw cleaner and paw wipes.
Dogs do not need a face mask to protect themselves against the novel coronavirus COVID-19. And the most important protection of all: Under no circumstances should owners abandon their dogs, cats, or other pets because of COVID-19 fears.
I heard a dog died of coronavirus in Hong Kong. Is this true?
Reports are that the dog died after being discharged following quarantine and due diligence. However, it is a matter of common sense that the world does not know everything there is to know about coronavirus and we are all still finding out. So, whether it's pets or children or furry toys for that matter, the best defence known to all is to keep yourself sanitized.
And finally...
Stuck at home and trying to cope with the COVID-19 crisis? Keep your dog happy with boredom-proof games and toys.
Disclaimer: This article (as with every other article published in Explocity) does not purport to be medical advice but rather a collating of various published reports and interviews with experts. Explocity advocates one's own caution and discretion in these matters of health.