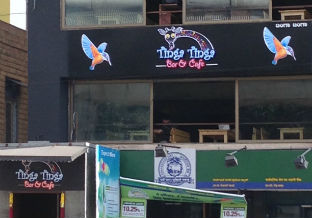 One of the city's old favourites, Couch Lounge & Bar, is being transformed into a new bar & café called Tinga Tinga. Everything from the name to the ambiance and food has taken on a new avatar, excepting the people who own it, the Sadhwanis. "Couch is an old favourite of the city and we have been looking at starting something new for quite some time," says Rahul, F&B consultant for Tinga Tinga.
Tinga Tinga is a painting style that was developed in Tanzania by an artist called Edward S Tinga Tinga. The bar draws a small inspiration from this in terms of the bright and vibrant colours used.
Their menu includes some 25 fresh cocktails like the Tinga Tinga-inspired infusion and the Tikiti. The bar will serve finger food like Tinga skins (potato wedges), Tinga wings, tikkas and "T2 peanut masala". Entrees include a Thai-marinated burger called Swadhika, the classic American burger and a Chinese-marinated burger.
Tinga Tinga will be open for lunch and dinner from October 11.