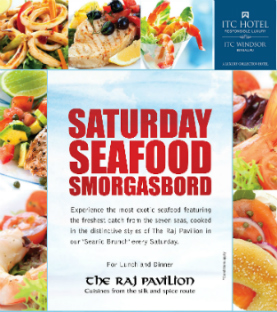 Saturday Seafood Smorgasbord by Cuisines from the Silk and Spice Route, Raj Pavilion.
With a time-honoured past of satisfying the patrons of elegant cuisine, this time the net is thrown at coastal cuisines, delicacies steeped in 'seanic' history.
The myriad flavours of an array of the freshest catch conjured from the coastline of around the world, cooked in a delicious and distinct style will be presented in one of the most exquisite and extensive brunch. Nutritious and delicious, the harmonious combination of which will lead up to a perfect Seafood serenade...
Executive Chef, Yogen Dattaand with his culinary team will take you on a culinary cruise of seafood and innovative blends to whip up the culinary delights to suit the contemporary palate.
Look forward to indulging your palate with the tastes of Cold Poached Salmon, or savour the taste of seafood thermidor. The crustacean lovers can treat themselves to the tastes of prawn molee, or the scintillating tastes of the shrimp and avocado salad.
As you dive deep into the ocean beds and bring out the rare and the best of seafood cuisine—one can enjoy the Oyster Bar that promises to be a treat worth experiencing in this culinary journey, or the very special ceviche of snapper.
The 'Seafood Saturday Brunch' is at Raj Pavilion at ITC Windsor on every Saturday Brunch.