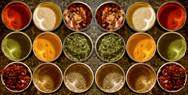 Experience the flavours of Kerala at Sheraton Bangalore Hotel from June 5 – 16.
Feast, the multi-cuisine restaurant at Sheraton Bangalore Hotel presents a special food festival featuring dishes from the Malabar region. Guests can experience the unique spices, aromas and textures of Kerala from June 5 to 16 with a special buffet at Feast.
The menu includes vegetarian and non-vegetarian dishes like Meen Pollichathu, Mutton Pepper Fry, Nadan Kozhi Curry, Kozhi Porichathu, Kozhi Varuthathu food and more. Classic Malabari desserts like Ada Pradhaman and Pal Payasam will also be served. Visiting Chef Chandrabhanu from Le Meridien, Kochi doles out these flavoursome dishes with finesse.