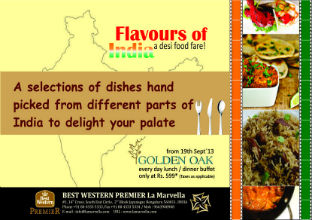 India's diverse culture implies a multitude of cuisines to indulge in. The Golden Oak celebrates this diversity with a food festival that will be a treat for all foodies.
Golden Oak at La Marvella presents Flavours of India, a desi food fare. The festival features live counters and a buffet, which includes a wide selection of dishes picked from different parts of India.
Priced at Rs 599, this is inclusive of a pint of foster or a glass of wine. The Sunday brunch is at Rs 699. Timings are 12:30 pm to 3:30 pm for lunch and 7 pm to 11 pm for dinner.