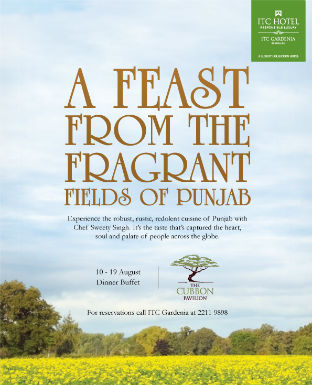 Cubbon Pavilion at ITC Gardenia invites you to savour the authentic cuisine of the land of bhangra and butter chicken.
ITC Gardenia's Cubbon Pavilion will host a food festival to celebrate the rich and robust cuisine of Punjab, called 'Flavours of Punjab.' The festival will feature a dinner buffet created by visiting chef Harjinder Singh, popularly known as Sweety Singh.
The culinary fest will include signature dishes cooked in desi ghee and traditional masalas, straight from the heart of Punjab. Guests can look forward to an array of savoury and sweet treats.
Some of the trademark dishes include bhatti da murg (tender cuts of chicken steeped in an aromatic marinade of spices and slow cooked in a clay oven) and rara meat (fried lamb mince and meat on the bone, cooked with whole spices). Vegetarian delicacies include Lahori paneer, aloo wadiya and chukandar ke kabab (deep fried beetroot stuffed with cheese and cashew nuts), sarson da saag (a curry made of young mustard) and paratdar paneer (three layers of paneer stuffed with different chutneys and dried plum).
The bread section will include kulchas, naans, missi rotis and makki di rotis, straight from the tandoor. There is also a small but alluring variety of rice dishes like chole ke chawal, mutter ke chawal and kheeme chawal.
A Punjabi meal cannot be complete without lassi. The feast will include aam di lassi and a meethi kesari lassi to accompany the hearty meal. Finally, for the sweet tooth, there is besan da seera, gulab jamun and rabdi among other desserts.
The festival is from November 8 till 17. Timings: 8pm onwards.