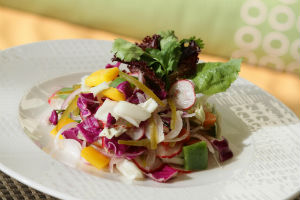 Feast presents a world of flavours under one roof from January 24 to February 2.
All-time favourites in street food from around the world come together under one roof in a selection featuring dishes from Latin America, Europe, Southeast Asia and more.
Dishes include döner kebab in sesame pita with garlic yoghurt, Lebanese falafel and selection of Arabic mezze, Thai curries with flavoured rice, chicken sate with peanut sauce, vegetarian sushi selection, pad thai station, noodles, dumplings and lots more.
Sweets include crepes, strudel and fluffy mousses from Europe.
Timings: 12 pm to 3:30pm and 6:30 to 11:30pm. Price: Lunch: Rs 1395 plus taxes per person; Dinner: Rs 1545 plus taxes per person.