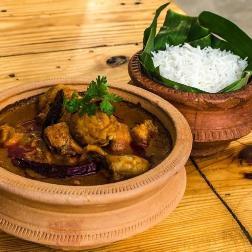 Coastal food in Bangalore is quite popular. Be it Mangalorean, Malyali, Tamilian or Goan, the southern shores and its distinctive cuisines are always popular. The Goan Food Festival at JW Marriott brings Goan food to JW Kitchen. The food festival features food from the Goan coast which have a rich Portuguese influence.
Chef Sinatra's menu has Fish Caldin, Goan Yellow and Green Curry made with pomfret, Crab Xec Xec, Chicken Cafreal and Sorpotel. The Goan dishes make use of a blended spices and coconut in the form of fresh coconut to coconut milk, all that are easily available on the vast Goan coasts.
The festival continues until 23 October, 2016 and the menu is available for dinner from 7:30 pm to 11 pm.
At JW Kitchen, JW Marriott.