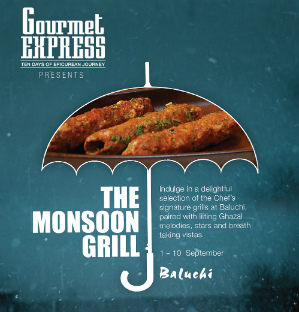 It is all about savouring and soaking in the distinct flavours and aroma of grilled food and spiced beer amidst the rain. 
In yet another episode of Gourmet Express – ten days of epicurean journey, The Lalit Ashok presents The Monsoon Grill in association with Indus Pride beer. Set up on the terrace, the live grills would delight any connoisseur's senses.
The guests can choose from an array of grilled food options, including sizzling hot king prawns, red snapper fish and an assortment of veggies and cottage cheese in exotic marinades. This hand-picked, prix fixe selection served with unlimited Indus Pride beer is designed to leave the patrons of Gourmet Express with something to remember.
Live ghazals, sprawling greens and the tranquil-blue pool in the vicinity will further heighten the experience.
The Gourmet Express will be on from September 1 to 10 between 7:30 pm and 11:30 pm. The vegetarian and non-vegetarian selections with unlimited Indus Pride spiced beer will cost Rs 1,095 plus taxes and Rs1,195 plus taxes per person respectively.