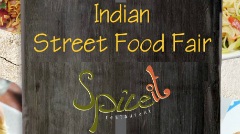 Spice It introduces the street food fair where diners will be
treated to some of India's favourite comfort food along with the regular
buffet.
Spice It, at Ibis Bengaluru Techpark, introduces the Street Food Festival, from the 17th to 28th July. It offers the favourites of Indian street food from the various states of India. Street food is the ultimate comfort food for many Bangaloreans, and the best of these will be available live at the buffet.
Some of the favourites on offer include a large variety of chaats from the streets of Uttar Pradesh, with a 'Make your own Chaat' station. The menu is also offering pav bhaji and vada pao from Maharashtra and Kolkata Frankie roll from West Bengal.
An array of other dishes on offer will include hakka noodles, spicy Kerala pork fry, spicy Kerala chicken fry, dosas and the all time favourite bhelpuri, apart from the regular buffet.