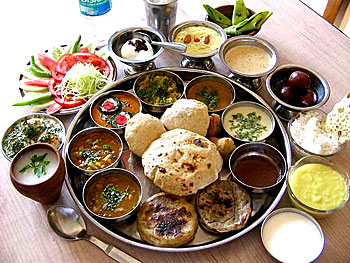 Sous Chef Madhav A K Nambiar at Cubbon Pavilion has a menu for the lovers of Gujarati food in Bangalore
Cubbon Pavilion, the world cuisine restaurant at the ITC Gardenia brings some Gujju joy to the city. Gujarati food has the promise of diversity. And if you can't decide what to have, go for the Farsan, the Gujarati small plate concept. Have a little of the moreish Bhakarwadi, or munch on some crunchy Fafda. The live chat counter has dishes like Karara Jalebi Chat and our pick Moong Dal Samosa.
The main course has specials like Fajeto, a Kadhi made with mango puree. There are traditional classics like Undhio (mixed vegetable curry), Guvar Dhokli Ni Shaak (Cluster beans and flour dumpling) and Karela Kaju (bitter gourd - but not like you've ever had it before). Have the with the Theplas. Patra a dish made with multiple layers of colocasia leaves stuffed with rice, tamarind and jaggery was great.
The dessert cart stole our heart. Mango Shrikhand, Kesar Pista Gulaab Jamun, Puran Poli and so much more.
"Gujarati food is sweet, salty, and spicy, all distinct in taste and yet in perfect culinary harmony," a representative of the hotel told us.
Cubbon Pavilion, ITC Gardenia, 1, Residency Road, Ashok Nagar, Bangalore