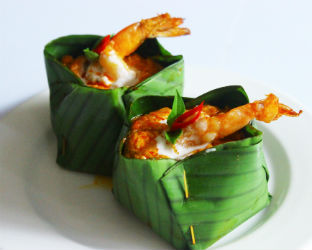 Benjarong is hosting the Loi Krathong festival till November 24. The festival is celebrated across Thailand on the full moon day in November and brings people together as they make a wish for a better future.
Loi Krathong takes its name from the words 'Loi' meaning float and 'krathong' meaning small baskets or rafts made from banana leaves and contain incense, lotus flowers and candles which are lit and set to float in water after making a wish. The belief is that the krathongs carry away bad luck and signal a fresh start.
At Benjarong, the festival will feature vegetarian and non-vegetarian delicacies that are traditionally served during the festival in Thailand.
Some of the highlights in the festival menu include the pla hor baitaey (marinated fried fish wrapped in pandanus leaves); gai kolae (Southern Thai style grilled spicy chicken on skewers), goong mung korn pahd vollappa (lobster cooked with vegetables in chilli and basil sauce) and kaichi (a traditional fluffy Thai omelette with choice of chicken, prawn or vegetables.)
An average meal for two is Rs 1300 plus taxes. Lunch timings are 12:00 pm to 3:00 pm. Dinner timings are 7:00 pm to 11:00 pm.