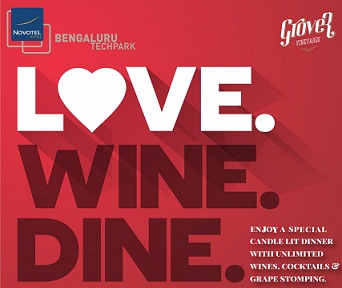 Novotel Bengaluru Techpark presents the Valentine's Day soirée at Blue Terrain - the open air poolside bar and barbeque restaurant. Set amidst tranquil surroundings, Blue Terrain makes for an ideal place to relax and unwind on this special day.
Get cosy with your loved one under the stars with culinary delights such as exotic salads, grilled halloumi, ravioli with rose petal chips and valentine desserts - framboise cupid and choco fraise foreplay. Unlimited wine and cocktails, grape stomping activity and a chocolate rose for every couple will add to the perfect romantic evening.
Price: Rs 2014 ++ per heart.