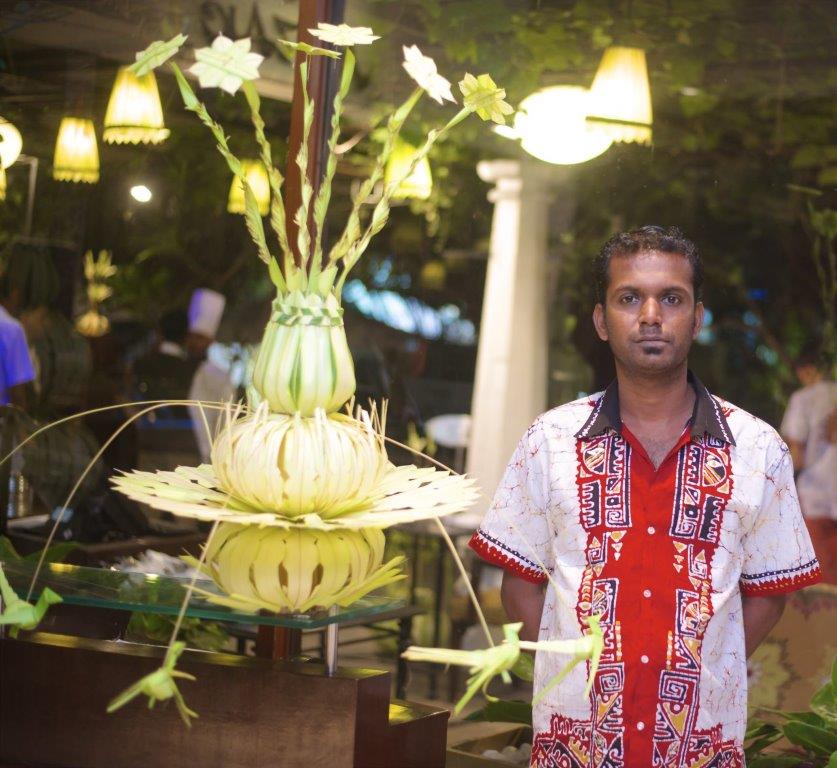 Where did you grow up?
Bentota, Aluthgama town
What led you to this profession?
My father was into making decorative pieces out of different plant leaves. I learnt the art from him and decided to have a career in this field.
How long have you been an artist?
Since I was around seven or eight years old.
How come you chose the hotel industry to show your trade?
Sri Lanka is a beautiful island nation and attracts a lot of tourists to the hotels. The local art and culture is showcased to these tourists. This gave me the opportunity to showcase the local culture and my art form through hotels to all the guests coming to Sri Lanka.
What is the most complex decoration you have made and how?
I made a 12 inch elephant carved out of wood. It which was bought by a tourist from UK. It was a unique piece of art.
Where do you get your inspiration from?
I get inspired by mother nature. All the trees, plants and greenery around my hometown inspire me.
Do you have any mentors?
My father is my mentor. I learnt the art from him.
How long have you lived in Bangalore?
I just came to Bangalore promote the Sri Lankan food promotion at Vivanta by Taj MG Road. It also allows me to showcase my art to all the people in Bangalore. This is my first visit to Bangalore.
Do you like it here?
I loved Bangalore. The warm hearted people, food and weather is what makes the city. Though I think everything is so nice about Bangalore.