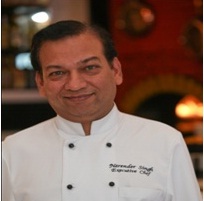 Director Food Production, Park Plaza Bengaluru
Who inspired you to cook?
When I was 15 I was inspired by the magic of making yummy cakes and biscuits. Then I was out in the world and inspired by feeding and sharing good food with friends. I was also inspired by different cultures and ingredients after the limited meat and three veg food of my childhood. The next thing that really inspired me was a soup brought to me when I had the flu. It was fantastic and the first time I recognised the magic of a meal that is lifted above the ordinary.
What is the first thing you learnt to cook?
Masala omelette my mom style.
What do you hate most about cooking?
I don't like the word hate and try not to use it, especially I dislike it when it is applied to any kind of food or cooking. My theory is that most people who profess to hate cooking are actually just making excuses to avoid it. Why would anyone really hate cooking? What did cooking ever do to you?
The sad part is that cooking is a wonderful skill to have. Not only does it save you time and money on food, it can also contribute to better health, bring you closer to friends and family, and be a great creative outlet for stress.
Why are there fewer women chefs than men in the industry?
I think in today's culinary world it's all about skills it's not about gender. There is a saying that best chefs always hire best chefs.
What do you like cooking with?
Love and passion.
What are some of your favourite things to cook?
Time and trends have changed now it's more on health cooking, I love to cook healthy food infusing with interesting taste.
What is comfort food for you?
My definition for comfort food is what you have been eating at home since childhood.