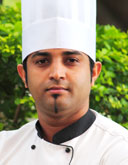 Chef Sachin Subbaiah
Royal Orchid Hotels
What were your influences while growing up?
I grew up in a traditional Coorgi household. My mother is a great chef and I loved helping her and learning from her. Even today I'm a sucker for Akki rotis and Coorgi Curries.
And now?
My mentor is Chef Rana Gomes, our executive chef. He led me into the kitchen and taught me everything about the industry. So I would name him as a huge motivation.
Which cuisine do you specialise in?
I specialise in Continental food. And it is what I most enjoy cooking. My signature dish is the Rack of Lamb, a roast recipe. I also love cooking and serving a Norwegian Salmon.
Which other restaurants in Bangalore do you think are top notch?
I think the independent restaurant culture in Bangalore is thriving right now. Manu Chandra does a great job at Olive Beach. The five stars obviously do what they do well. JW Marriott and The Oberoi are my favourites.
Eating out?
Oh, my eating out tastes are very simple. I still love my local Coorgi food. So the restaurant Wild Spice on Residency Road is a regular haunt of mine.