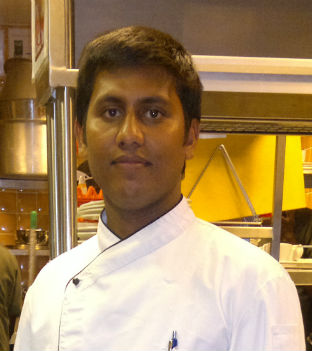 Chef Ranjit Nath
Sous chef at Café Mangii
How long have you been a chef?
For over 10 years.
What are your signature dishes?
Gnocchi gorgonzola; smoked salmon with balsamic dressing, goat cheese and pine nuts; New Zealand lamb chops with porcini mushroom jus and chocolate fondant.
Who or what inspired you to take up cooking?
Chef Manik Chandra is my mentor. He is an excellent Italian Chef and I am truly inspired and motivated by his culinary skills.
What has been your most memorable moment or biggest achievement as a chef?
The most memorable moment in my life is when I got the opportunity to serve Amitabh Bachchan at a sit-down dinner to commemorate his birthday. He was accompanied by a host of other Bollywood celebrities and well-known personalities from the film fraternity.
What kind of food do you personally enjoy eating?
I personally enjoy Mughlai food, my favourites being chicken biryani and butter chicken
Why do you think there aren't many women chef around?
I think in India we have a more male-dominated work culture unlike America and the European countries where many women don the chef's hat. Moreover a chef's job demands long working hours and irregular shifts, which is why women are hesitant to take up this profession.