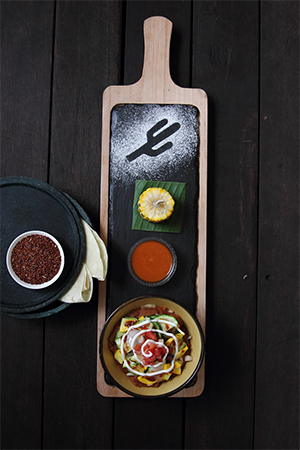 The debate on whether the burrito is Mexican or Californian may pale in the larger debate about whether California is still Mexico, but we Bangaloreans are more concerned with what goes into a burrito.
At Sancho's, in UB City, the "Burrito in a Bowl" festival deconstructs the dish. With Mexican rice, beans, meat, veggies, pico de gallo (or salsa) and sour cream, the burrito has been explained. This dish has everything we love. Spice, check. Rice, check. Healthy... ok, let's check this.
The restaurant's Culinary Director, Vikas Seth, said that the menu has been crafted to be about a healthy and quick meal in a single bowl. (The health part is emphasised by the option of Quinoa instead of Mexican rice.)
There's Smokey Chipotle Chicken, Mexican Barbecue Cured Pork, Serrano Spices Grilled Prawns, Beer Battered Fish Burrito Bowl and the Homemade Chorizo Burrito Bowl are some non vegetarian options. Vegetarians choose from Charred Pineapple Guacamole, Habanero Chilli Tossed With Cottage Cheese, Zucchini, Corn & Jalapeno and Epazote Mushroom & Bell Pepper Burrito Bowl.
The Burrito in a Bowl Festival continues till 30 September.
At Sancho's, UB City.