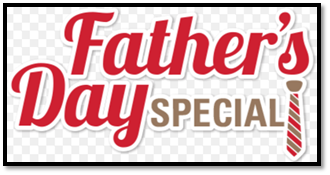 Someone said it right, "It takes a big heart to hold a little hand." Fathers do not come only with a moustache but with a big heart as well.
Experience The Brunch at Mӧvenpick this Father's Day, with some special activities like card making, cakes and cookies decoration, and lots of surprises.
The Brunch menu will feature a smorgasbord of handcrafted delicacies ranging from salads from the cold bar, to a wide array of main course meals that will take you to new gastronomical heights. For all those with a sweet tooth, relish in some mouth-watering desserts with 25 International and 10 Indian selections. The buffet will feature a variety of over 250 different dishes.
A live bar trolley to quench the thirst will feature Martinis, Summer Coolers and Shikanji Flavors.
To make it a brunch more memorable for you, the hotel will have a band playing some live melodies.
So this Father's Day, mesmerise your Father with a package full of surprises at Mӧvenpick Hotel & Spa Bangalore!
Where: Mӧvenpick Hotel & Spa Bangalore
When: 19th June, Sunday
Time: 12:30 pm to 4:00 pm
Price: 1500 ++ (Buffet + Nonalcoholic)
2100 ++ (Buffet + Sparkling wine)
2900 ++ (Buffet + Champagne)
For More Details Contact: 080-43001000