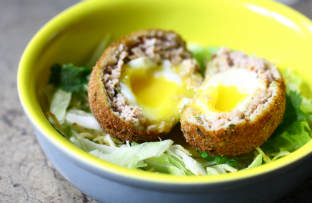 Monkey Bar Weekend Breakfirst introduces a fabulous selection of additions to the already fresh, inventive and one of a kind breakfasts, exclusively on Saturdays and Sundays from 9 am to 12 noon.
The menu, now features eggs Florentine, scotch egg and To Brie or Not to Brie- A fully loaded mushroom and brie omelet, served with toast. If you're the more health conscious one in the group, pick the Super Bowl Sundae, which offers house-made granola with lemon-yoghurt gelato and freshly chopped seasonal fruits. Or, give in to temptation and order the cinnamon and toffee pancakes or crispy bagels that are chewy enough to eat with just a light cream cheese smear. Monkey bar is also offering bagel sandwiches with smoked salmon, bacon or ham.
Wash all this down with a selection of signature Weekend Breakfirst cocktails including Jade Mojito with green apples, mint and rum; Red Riding Wood with vodka, fresh plums and apple juice and Mimosa – freshly squeezed orange juice with sparkling wine.
Price:
Average Meal for two: Rs. 1200 plus taxes