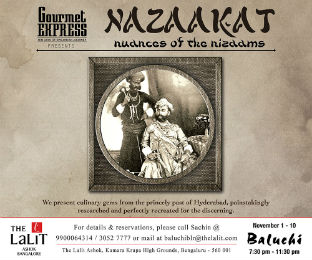 In yet another episode of Gourmet Express, The Lalit Ashok brings to you a Hyderabadi culinary extravaganza – Nazaakat at Baluchi – Pan Indian Restaurant.
From November 1 to 10, Baluchi at The Lalit Ashok will celebrate the varied cuisines from across the land of Nizaams. Evolved over the centuries and influenced by the Mughlai, Turkish and Arabic styles of preparation, the cuisine will now be prepared to the tee by Chef Subodh and his team.
Taste the authentic flavours of Hyderabad with delicacies like gosht lukhmi, murg ke pasande kebab, kacche ghost ki Hyderabadi dum biryani, dum ka murgh, mirch ka salan and a whole lot of vegetarian and non-vegetarian options. Guests can gain insights into the making of this delicious cuisine as well as the culinary traditions of the Nizams at the interactive stations.
The ambiance at the restaurant will feature popular cut-outs and focal points to give a glimpse of the city's culture and bygone times. And to accentuate the mood, Marfa music (brought to Hyderabad by the Arabs) will be played live at the restaurant.
One beverage will be served on the house. Timings for Nazaakat are 7.30 and 11.30 PM.