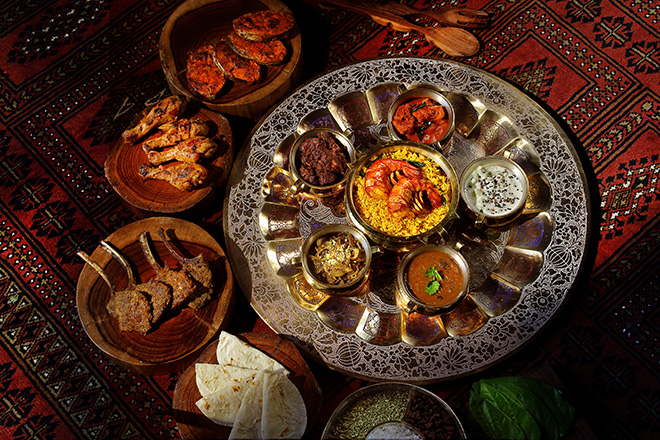 Dakshin, the fine-dining South Indian cuisine restaurant at ITC Windsor is hosting a food festival celebrating the richness and diversity of Moplah cuisine in its 'Malabars of Moplah' promotion.
Moplah cuisine is the food of the North Malabar Muslims. These Malabari Muslims trace their roots back to the Arab traders, who started visiting the region centuries ago, to further expand the boundaries of the popular spice trade. They settled down in the region and intermarried, and what developed was a unique Malayalam speaking Muslim community called Moplah. The Arab traditions and customs gradually merged with the locals, creating a community that reflects a unique blend of Arab, Persian, Mughal and Malabari influences, most notably seen in their food, which has distinct Yemeni influences.
"Moplah cuisine is a combination of the best features of all the various influences," says Uchit Vohra, Executive Chef at ITC Windsor. The festival focuses on traditional Moplah fare, available ala carte as well as a thali. The food will be prepared under the guidance of Moplah Culinary expert, octogenarian Mrs. Ummi Abdullah who has come down from Kozhikode. Moplah cuisine is rice and meat-based and involves a lot of fennel and coconut and is not heavy on the stomach. The menu features traditional starters like Kozhi Ada - deep-fried chicken pockets - and Abdulla's vegetarian twist to it - Uliyada - a deep fried samosa-shaped pocket stuffed with a mildly spiced, coarse mixture of onion and coconut. Explocity recommends the Vendekka Mulakitthatu: ladies finger cooked in a tangy gravy.
However, Moplah cuisine is largely about non-vegetarian fare and the highlight of the main course is the traditional Thalasseri mutton biryani, made of the short-grained khaima rice, lightly spiced with ginger, garlic, coriander and green chillies cooked in the dum style. The Mutton Vartharacha Curry is a combination of melt-in-in-your-mouth mutton in a lightly spiced coconut gravy, perfectly complemented by the Pathiri - a thinly rolled traditional Malabar steamed rice bread. Another traditional Moplah dish, steeped in Yemeni influences is the 'Aleesa'- a porridge made of wheat, chicken pieces, grated onion, ghee and coconut, similar to the Hyderabadi haleem. Moplah cuisine uses a lot of eggs and banana in their desserts, best illustrated in the the sweet "Mutta Mala'' or an egg garland - made of egg and sugar syrup – very similar to the Portuguese "Fios de Ovos" and the Kari, Kerala bananas simmered in a coconut and sago milk payasam. The Moplahs of Malabar festival is on till 12th September at Dakshin for lunch and dinner. The Moplah thali is priced at INR 2300 plus taxes.