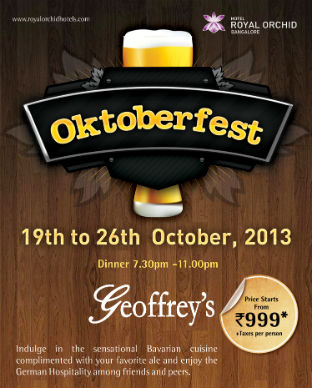 Oktoberfests have long been a part of German festivity. The Royal Orchid offers its own version of the celebration at its English pub, Geoffrey's.
From 19 – 26 October, Geoffrey's at The Royal Orchid is transforming itself to provide a lively dining experience, in order to celebrate the historic Oktoberfest.
The a la carte menu, specially designed for the festival, has a wide range of sizzlers that feature German favourites like sauerkraut, spaetzle, bratwurst and frikadelle will be served. Both vegetarian and non-vegetarian options will be available.
Considering beer is a big part of the festival, the pub will serve a wide range of beer brands for guests to explore. These include Kingfisher, Fosters, Budweiser, Tuborg, Heineken, Carlsberg, Peroni, Corona, Christoffel, Orval and St Bernadus.