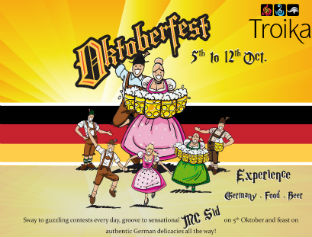 The trademark German festival, Oktoberfest, continues to be celebrated in Bangalore. This week, revelers can visit Troika, who are kicking it up a notch with a free style rap artist and DJ.
A whole week of celebrations in honour of Oktoberfest will take place at Troika from October 5 to 12. As tradition would have it, the festivities will involve lots of beer, drinking competitions as well as a special menu.
Guests can look forward to tasting some innovative dishes like classic frank in a warm bun (smoked chicken franks served in a warm bun with gherkins, mayo and mustard, served with fries and slaw) beer battered fish fingers (marinated sole fingers crispy fried in a beer batter and served with tartar and spicy barbeque sauce) and Bavarian crumb fried prawns (crispy fried tiger prawns served with piquant and marinara sauces).
And to set things in motion, MC Sid (Siddharth Sood), a free style rap artist and DJ Praful will kick-start the event on Saturday, October 5.