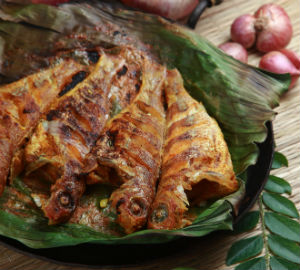 Take a culinary trip to 'God's own country' and indulge in a meal that celebrates the culmination sweet and savoury flavours, only at the ITC Gardenia.
From January 12 to 15, the ITC Gardenia's Cubbon Pavilion will serve a meal that the hotel deems 'fit for the Gods.'
Celebrating Ruchi Aharam – the Kerala Food Festival, Masterchef from the WelcomHotel Raviz, Kollam, Chef Nayar and his team will be showcasing the culinary tradition of Kerala.
On offer will be an array of soups such as murungakkai attin soup (lamp soup with drumstick), thakali rasam (a tangy lentil broth laced with garlic, tomatoes, spices and tamarind) and attukal thenga soup (lamb trotter soup).
The main course includes kuttanadan njandu kurumulaku (signature mud crab preparation of the Allepey region with a tamarind marinade), kakka peera patichathu (mussels tossed with crushed coconut flakes and cumin) and meen vattichathu (king fish simmered in spiced kokum accented gravy). Vegetarians can relish unnithandu upperi (banana stem tossed with mustard and curry leaves) and mathanga erissery (red pumpkin and red eye beans cooked with coconut cumin paste) and pavakkai thenga warathathu (crispy fried bitter gourd with coconut slivers).
Biryani aficionados can try the thalaserry attin erachi biryani (Mappila community mutton biryani made with short grain kaima rice).
Round off the meal with a spread of desserts like the elaneer payasam (chilled dessert of tender coconut and cardamom) and panchamrutham (translates to five amruthams such as cow's milk, raisins, banana, ghee, and sugar) and pazham nirachathu (ripe banana stuffed with coconut and jaggery).