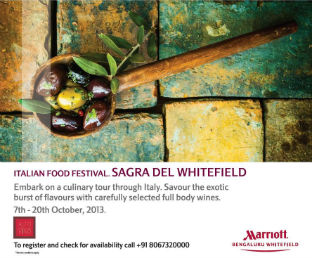 In Italy, Sagra is a local festival held to celebrate good food. It gives people the opportunity to get a taste of authentic Italian food. Alto Vina at the Bengaluru Marriott Hotel provides this same opportunity for the residents of the city.
Bengaluru Marriott Hotel Whitefield is hosting its first ever 'Sagra' at their Italian restaurant Alto Vino. Called the Sagra del Whitefield, the festival promises to take guests on a culinary trip all the way from the north to the south of Italy. The whole restaurant will be transformed into an Italian village to suit the theme.
The menu has been created with ingredients that are renowned in Italian cuisine. With fresh herbs and spices, zesty tomatoes and creamy cheese, Chef Alfonso Montefusco will create the perfect blend of flavours.
Some of the specialities that guests can look forward to are Sagra del brasato di manzo al Barolo di Franciacorta (Slow cooked Brasato Beef in Barolo wine of Franciacorta), Sagra del Porcino di Buti (Tagliatelle with Porcini mushrooms and garlic) Sagra del Gambero con la sciarpa (grilled prawns with crispy asparagus).
The festival will take place from 7:00 pm to 11:00 pm, till October 20.