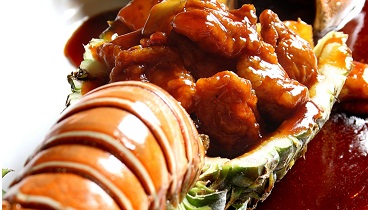 Szechwan Court, the specialty Chinese restaurant at the Oberoi will be celebrating the Chinese new year from January 31 to February 9 for dinner with a dishes curated by Chef Liang Chen.
Appetisers will comprise sesame coated prawns with hot garlic sauce, duck and squid stir fried with XO sauce, home style mix vegetable salad with peanuts, salt and pepper corn and chicken Egg rolls. There's also chicken and coriander soup and shitake mushroom, water chestnut and asparagus clear soup.
For main course, there will be asparagus and prawn in fresh chilli sauce, five spiced chicken, shredded lamb and dry lily flower in butter garlic sauce, zhenjiang style spareribs with coriander and black vinegar sauce, Lobster in XO sauce and crisp fried whole fish in a sweet and sour sauce.
For vegetarians, there will be home style eggplant and dry lily flower in sweet chilli sauce, stir fried broccoli, baby corn and water chestnut, mix Asian greens with lettuce in soya garlic sauce, Crab and ginger fried rice and mix mushroom braised noodles.
Dessert will include Moon cake and deep fried ice cream.