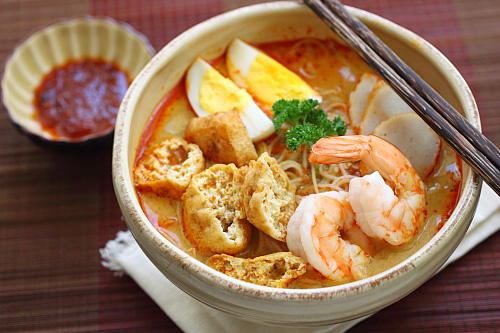 "Singaporeans love their street Chinese food spicy. Just like us," quips Executive Chef Sanjiv Kumar Roy Nandi in conversation with Explocity. This Chinese New Year, their food festival highlights street food from Singapore, inspired by Chinese cuisine.
Laksa is a popular spicy noodle soup from Singapore's streets. Chef lived there for a year and has enjoyed this spicy soup with many ingredients like meat, veggies, coconut milk and others. At the food festival in Oko, Lalit Ashok diners can enjoy many such feisty dishes.
There is a Mongolian BBQ counter too, where you can enjoy Mongolian stir frys - veg and non veg - with exciting sauces. We also learnt of new dishes like Roti Canai, an Indian influenced flatbread and Roti Jala, a net like rolled bread. If you want to try some known and classic dishes, go for the Dim Sums.
The most fun dish was the Hot Pot which has a variety of ingredients that one can enjoy at the table. The Tom Yum soup was most authentic and the Chicken Satay was delicious.
For dessert the restaurant is offering traditional Chinese Pancakes. Adventurous diners can try the innovative Malay Kuih, a snack type dessert made with rice flour.
Oko, The Lalit Ashok, Kumara Park East, Kumara Krupa High Grounds, Bengaluru